Cenk Uygur Bashes Conservatives Upset by Feminist's Hobby Lobby 'F*ck-In' Joke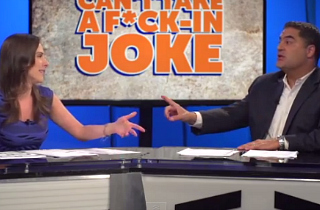 After seeing the reaction to a Jessica Valenti tweet, Young Turks co-hosts Cenk Uygur and Ana Kasparian are fairly certain that some conservatives just can't take a "fuck-in" joke.
In response to the SCOTUS ruling in favor of Hobby Lobby's right to not extend contraceptive coverage in its employee health care plans, the Guardian feminist columnist jokingly tweeted on Monday that "Maybe women should organize a safe-sex fuck-in at every Hobby Lobby across the country. In the glitter aisle. JUST A THOUGHT."
The irate response from conservatives — suggesting she has "no class" or is "inherently rotten" — drew an equally annoyed response from The Young Turks on Tuesday.
Responding to this tweet from a Town Hall editor…
And, exactly what will this accomplish other than confirming that liberal values – overall – are inherently rotten?
https://t.co/noV5lNmrfR

— Matt Vespa (@mVespa1) June 30, 2014
…Kasparian mocked: "That's right, because liberals sit around and they conspire ways to go to local retail stores to have fuck-ins. That's what we're all about. Those are our values."
Uygur took a much more stern tone: "You jackass, it's a fuckin' joke. She's a feminist; she's not actually going to do a 'fuck-in' at a Hobby Lobby, okay?" He later lamented the tendency among the "professional right" to "go to eleven [on their outrage] and stay at eleven."
Kasparian, however, suggested that the response to Valenti demonstrates how conservatives genuinely believe the "absolutely ridiculous" notion that "all liberals are going around having random casual sex with everyone." She added: "That's the way that they paint the picture; that's the way that they make liberal women look like. And I know so many conservative women that are much more liberal in their sex lives than liberal women are."
Watch the full segment below (NSFW: language), via The Young Turks:
Have a tip we should know? [email protected]