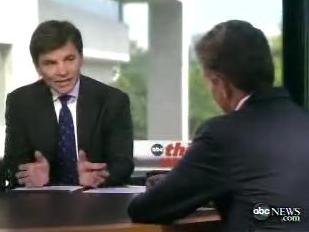 For the first time in more than 10 years, ABC's This Week was the top-rated Sunday morning public affairs show last week in both total viewers and the A25-54 demographic.
Since David Gregory officially took over NBC's Meet the Press in December, the race each week has tightened between NBC, ABC and CBS' Face the Nation. We asked This Week's anchor George Stephanopoulos for his thoughts on the reason for the win, Bill Clinton's return to the spotlight and more.
"I think this is part of a process," Stephanopoulos tells Mediaite. "We've been moving up for 20-something weeks, and I just think week-by-week, show-by-show, we're catching up. It was nice to go over the top last Sunday."
Stephanopoulos says the "dog fight" has made the ratings race that much more exciting. "It throws a lot of uncertainty into the game," he says. "But it doesn't change the mission, doesn't change what we try to do every week. We try to put on the best show, with the best headliners, and the most provocative program, and when it works it's gratifying."
It's not just that ABC beat the competition last week – but the entire group of Sunday shows combined (including FOX News Sunday) is surprising up from last year, when in the midst of a huge election year.
Another area Stephanopoulos has surpassed Gregory – on Twitter. Although much news was made when Gregory started tweeting, Stephanopoulos has surpassed him in Twitter followers, now with more than 1 million (follow him here). "I learn a lot from Twitter about what's on people's minds and where the hot debates are," he said. "We're encouraged. We feel the feedback."
Stephanopoulos says he's still working on booking the guests for this week's show, but one topic of discussion will certainly be Pres. Bill Clinton's high-profile North Korea rescue mission. Stephanopoulos knows the time when Clinton was in the spotlight well. "One of things that struck me was that it had a 'Back to the 90s' feel. Three of the biggest players, the three biggest players, were Bill Clinton, Al Gore and Hillary Clinton."
Does he think this signals the beginning of more Bubba in the news? "I don't know. We'll see going forward but it was a pretty powerful moment," he said.
Here are the ratings from last Sunday:
TOTAL VIEWERS A25-54 MM/Rtg
ABC THIS WEEK 2,800,000 980,000/.8
NBC MEET THE PRESS 2,770,000 910,000/.7
CBS FACE THE NATION 2,310,000 650,000/.5
FOX FOX NEWS SUNDAY 920,000 350,000/.3
Have a tip we should know? tips@mediaite.com