Check Out This Incredibly Awkward Moment Between Fox's Chris Wallace and Tucker Carlson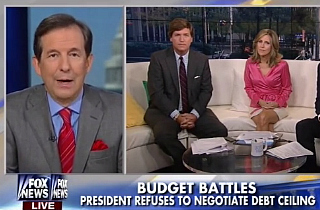 Don't know how we missed this one on Sunday morning, but things got incredibly awkward on Fox & Friends Weekend when host Tucker Carlson attempted to provoke Chris Wallace into talking about President Obama's "dog whistle" remarks before the Congressional Black Caucus.
Fox News Sunday host Wallace clearly thought he was coming on F&F to talk exclusively about Sen. Ted Cruz and the coming showdown over defunding Obamacare and potential government shutdown; but Carlson wanted to hear his thoughts on Obama saying "we have overcome far darker threats" than the GOP attempts to defund the healthcare law.
"That is the race card being played," Carlson explained. "Can you see any other explanation for it?" he asked the FNS host.
Wallace threw his hands up and said, "Oh, I don't know," before pivoting: "I think to get to the real point though, they are not going to compromise."
Despite Wallace's efforts to turn back to strictly talking congressional politics, Carlson did not back down, interrupting: "But what do you mean? Isn't it news if the president says to the Congressional Black Caucus, 'We have overcome far bigger threats'? That's taking rhetoric to a new place, is it not?"
And here's where things got supremely awkward.
Wallace chuckled, paused for a good two seconds, and then amusedly replied: "I don't know, Tucker."
Uncomfortable pause again.
"Do you want me to talk about Obamacare?" Wallace then asked.
Carlson agreed, prompting Wallace to reply with a smirking "okay," almost as if to pat his colleague on the head before moving on. You can sense the "Thou Hast Inconvenienced Me" look in Wallace's eyes.
The whole thing was cringe-worthy. Watch below, via Fox:
[h/t
Johnny Dollar
]
— —
>> Follow Andrew Kirell (@AndrewKirell) on Twitter
Have a tip we should know? tips@mediaite.com