Chris Christie's Risky War with MSNBC
Rothman: Chris Christie's Risky War with MSNBC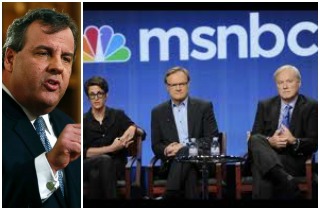 The New York Times published a piece on Monday pouncing on the "messy divorce" between New Jersey Gov. Chris Christie and the cable news network, MSNBC. Times' reporters Michael Barbaro and Bill Carter observed that the "on-air romance" between the New Jersey governor and the network, by which they mean Morning Joe exclusively, has devolved into an adversarial relationship since the revelations regarding the closure of two lands of the George Washington Bridge in 2013 broke.

Indeed, the network has become a central figure in the coverage of the scandal – a story now evolving into a rolling series of allegations from Democratic figures in New Jersey that the governor's office engaged in intimidation and coercion to achieve political ends.
The allegations swirling around Christie's office have resulted in an hour-long prime time special on the scandal hosted by Chris Hayes, an elaborate series of alternate theories explaining Christie's abuse of authority by Rachel Maddow and Steve Kornacki, Chris Matthews offering Christie's fired aides advice on how to implicate their former boss, and even the airing of anti-Christie attack ads by Lawrence O'Donnell.
When Hoboken Mayor Dawn Zimmer went public with her allegation that the governor's office sought to strong-arm her by withholding federal Hurricane Sandy aid unless she approved of a local development project, she did so on MSNBC. All of this coverage has resulted in a ratings bonanza for the network.
These allegations, while still unproven, have taken a toll on Christie's political prospects. As the head of the Republican Governor's Association heading into the 2014 cycle, Christie is responsible for raising funds to elect GOP politicians to statewide office. According to reports, the notoriously squeamish Republican donor class is getting cold feet about associating with Christie, making success in his role as the RGA's figurehead virtually impossible. To say nothing of Christie's 2016 prospects, his efficacy as a potent figure in the Republican Party today has been cast into doubt.
Christie's office is keenly aware of how the scandal has damaged him politically. In order to turn the tables, Christie's office is now elevating MSNBC itself as a central figure in the story surrounding the intimidation allegations.
RELATED: Christie's Office Hits MSNBC's 'Gleeful Assault' over BridgeGate, O'Donnell Attack Ad
Responding to Zimmer's allegations over the weekend, Christie spokesman Colin Reed issued a statement castigating the network. "There's a difference between treating this matter seriously and seeking out the truth and irresponsibly using hearsay and conjecture without confirming the facts," Reed said.
MSNBC is a partisan network that has been openly hostile to Governor Christie and almost gleeful in their efforts attacking him, even taking the unprecedented step of producing and airing a nearly three-minute attack ad against him this week.
"It's very clear partisan politics are at play here as Democratic mayors with a political axe to grind come out of the woodwork and try to get their faces on television," Reed concluded.
Zimmer's allegation against Christie is serious and virtually impossible to disprove, even if a federal investigation into her claims was not ongoing. It is understandable that Christie's office would want to strike back in a political fashion against what they very well may believe are political attacks.
This effort to turn the tables on MSNBC accomplishes another goal; making Christie a less politically toxic entity for GOP donors by framing the coverage of the charges surrounding his office a referendum on the ethics of MSNBC. By shifting the focus from him onto a network conservatives believe unfairly covers their party's candidates and positions, Christie may mute some of the damage being done to his political brand – damage which threatens to force the RGA to remove the governor from his position if it is not quickly addressed.
But there are lessons for Christie in how President Barack Obama dealt with an adversarial network – Fox News Channel – of which the New Jersey governor should be mindful.
One of the president's first political targets upon entering office was Fox. Obama's allies did their best to discredit the network. Both former White House Senior Advisor David Axelrod and former Chief of Staff Rahm Emanuel repeatedly insisted in 2009 that Fox was not a news network so much as an opinion network – and an anti-Obama one at that. In 2010, the president himself insisted that Fox peddles a "point of view that I think is ultimately destructive."
But the White House's war against Fox went nowhere and ultimately resulted in stalemate and a tense ceasefire. In the end, it was the White House that was diminished by their scuffle with a cable news network, which gained notoriety and influence as a result of their high-profile skirmish with the leader of the free world.
If the allegations against Christie are shown to be false or politically motivated, the decision to litigate conservatives' frustrations with MSNBC in public could be viewed as a master stroke that saved both his RGA chairmanship and rescued his presidential prospects. Should Christie's office be unable to finally put these allegations to rest, or if any of them prove founded, it will be the New Jersey governor and not MSNBC which will have lost credibility.
[Photo via ABC News/NBCUniversal]
— —
> >Follow Noah Rothman (@NoahCRothman) on Twitter
Have a tip we should know? tips@mediaite.com