Chris Matthews: Can Obama Still Win Reelection With High Unemployment Numbers?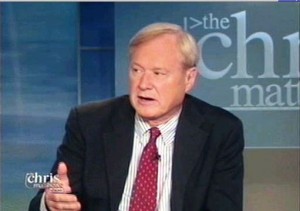 Chris Matthews today wondered how President Obama could get reelected with such high unemployment numbers to deal with. He brought up figures during the presidencies of FDR and Ronald Reagan, both of whom were nevertheless reelected. Matthews consulted the "Matthews Meter," twelve of The Chris Matthews Show's regular panelists, and all but one of them agreed the president could be reelected even if unemployment stands at 8.5 percent.
Howard Fineman counted himself in the majority, arguing his position was valid because "it depends on the context" of the election, and predicted the Obama administration would explain high unemployment as a "new normal." Jamie Tarabay and Kimberly Dozier agreed with Fineman, adding that the election outcome would also depend on the eventual GOP nominee and the influence of the tea party on the nominating process.
The Washington Post's David Ignatius suggested that Americans will vote based on the mood of the country and where they feel it's headed as opposed to specific unemployment figures.
If people sense that markets aren't in a free-fall, that we have a steady, solid leadership in Washington, or in the White House at least, I think that the president will have a strong case to make even if that unemployment rate is, in every other way, unacceptably high.
Fineman predicted Republicans in Congress would go all-out to paint the economic crisis as entirely Obama's (as if this hasn't been going on already), and that if the president wants to have the upper hand in negotiations with Congress, he needs to "trap his opponents into a deal that favors him." All the panelists agreed that next year, when the presidential race is underway, Obama will be playing defense with the economy against his GOP rival.
Watch the video here, courtesy of NBC News:
Have a tip we should know? tips@mediaite.com
Josh Feldman - Senior Editor