Chris Matthews: Will Obama's Risky Decision On Bin Laden Raid Inoculate Him From Foreign Policy Criticism?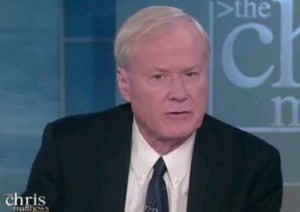 This week marks the one-year anniversary of the death of Osama bin Laden after a successful raid on his Pakistani compound by SEAL Team 6. Chris Matthews marked the anniversary by bringing up Time's new feature on how the decision went down. It reveals that only half a dozen other people besides President Obama knew about the plan, and despite warnings from the others, Obama chose the risky path in sending in the SEALs. Matthews and the panel discussed just how risky it was and how lucky Obama was that the mission was a success.
RELATED: Joe Biden: Had The Osama Bin Laden Raid Failed, Obama 'Would've Been A One-Term President'
Time managing editor Richard Stengel said that Obama not only took a chance by ordering the mission in the first place, but holding off on it for several months with the risk that information might leak out to the public. Helene Cooper said Obama had been closely listening to Leon Panetta, the head of the CIA at the time, and the agency that had previously been criticized for letting bin Laden slip through the cracks saw this as a shining moment. David Ignatius pointed out that there were supplementary forces far outside the base in case a firefight erupted and the SEAL team needed backup. As for the president himself, Ignatius said no matter how "awkward" Obama may seem in public, he is "very decisive" and a "tough man" in private.
Matthews then played a clip of both Liz Cheney and John Bolton trying to give more credit to the preceding administration, with Bolton saying that Obama's biggest contribution to taking out bin Laden was "getting out of the way." Katty Kay said that after a cursory reading of the Time piece, it's fairly clear that Bolton is incorrect. She said that contrary to what Bolton said, Obama was "intimately involved" in carrying out the mission.
Matthews then shifted the discussion to Obama's reelection campaign and whether or not the successful mission will inoculate Obama from criticism that he is weak on foreign policy. Cooper said that while Romney really wants to hit Obama for his foreign policy, it's going to be a hard sell. Ignatius noted that the campaign may end up painting an "Obama v. Osama" narrative where both men were trying to kill each other but the president ended up being successful and cutting off the head of the snake, as it were.
RELATED: New Obama Ad: Would Romney Have Ordered Bin Laden Raid?
Stengel doubted it would work, arguing that Democrats are typically not supported based on their foreign policy, but the economy.
Watch the video below, courtesy of NBC:
Have a tip we should know? tips@mediaite.com
Josh Feldman - Senior Editor