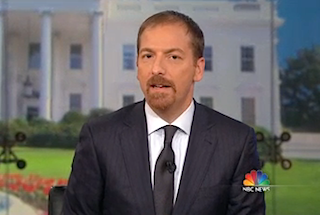 Throughout his exclusive interview with President Barack Obama on Meet the Press yesterday, Chuck Todd referred to "ISIS" when discussing the Islamic extremist group that has taken over much of Iraq and Syria while the president called that group "ISIL." During the panel's discussion of the foreign policy portion of the interview, Todd revealed why he, and many other pundits, believe Obama is insisting on saying "ISIL" while the rest of the media (including Mediaite) seem to have agreed on "ISIS."
"Obviously, we refer to it at NBC News as ISIS," Todd explained to anyone who may have been confused by the two different names. "The Obama administration, the president says the word ISIL. The last 'S' stands for Syria. The last 'L' they don't want to have stand for Syria."
As Todd said, ISIS stands for the "Islamic State in Iraq and Syria," a designation that could indicate the best way to combat the group is to take them on militarily in both of those countries. ISIL stands for the "Islamic State in Iraq and the Levant." The Levant is a larger area of the Middle East that actually includes Lebanon and Jordan in addition to Syria. But since the Obama administration has shown much more willingness to attack ISIS in Iraq than they have to attack them in Syria, they seem to have decided it is in their best interest to leave the "S" out of the name.
Todd's explanation is a far cry from that of Fox News' Harris Faulkner, who said last week on Outnumbered that Obama is "tipping his hat" to ISIS by calling them ISIL. "Levant is a bigger territory," she said. "That's why they want to embrace that name and it includes many, many more countries than just Syria."
While Todd thinks the Obama administration is trying to downplay ISIS' capabilities, Faulkner thinks they are trying to give them a boost. But Faulkner was a bit behind on her facts. As of June, the group has taken to calling itself "IS" or simply the "Islamic State," with ambitions of becoming a much more widespread caliphate across more of the Middle East than only Iraq, Syria and the Levant.
And Todd and Faulkner aren't the only media figures who are speculating about why the Obama administration uses ISIL over ISIS. On Fox & Friends this morning, Donald Trump said ominously that "there's a reason" why the president prefers "ISIL." But he declined to reveal what that "reason" is.
Watch video below, via NBC:
[Photo via screengrab]
— —
>> Follow Matt Wilstein (@TheMattWilstein) on Twitter
Have a tip we should know? tips@mediaite.com