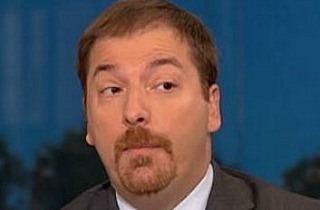 During Tuesday Morning's memorial for the late Nelson Mandela in South Africa, President Barack Obama shook the hand of Cuba's communist president Raul Castro. It marked the first time since 2000 that a sitting President of the United States shook hands with Cuba's communist leader.

When Fox News Channel devoted a debate segment to the significance of that handshake, NBC News Chief White House Correspondent and host of MSNBC's Daily Rundown, Chuck Todd, attacked the network for "pandering to an audience."


Most of the twitter universe immediately identified the irony in Todd's admonition of Fox News for "pandering," given that his network has just recently cut ties with two on-air personalities for conduct exceeding the limits of decency. One of those hosts, Martin Bashir, was reaching for an attack on Sarah Palin and stumbled into a segment so vulgar that even his employers could not stomach it. Some called that an example of "pandering to an audience."
RELATED: Melissa Harris-Perry: 'Obamacare' a 'Derogatory Term' Conceived by 'Wealthy White Men'
Others cited MSNBC host Melissa Harris-Perry who just this weekend linked the term "Obamacare" to a tragic history of racist epithets and declared that this "derogatory term" was invented by "wealthy white men." Still more said that this was evidence of Todd's network "pandering to an audience."
Some, including Commentary magazine editor John Podhoretz, no stranger to that network, accused Todd of throwing stones in a single pane glass house.

Todd, perhaps chafing at the abuse he was subject to following his observation, defended his personal integrity:

Todd declined to defend the conduct of his colleagues.
[Photo via MSNBC]
— —
> >Follow Noah Rothman (@NoahCRothman) on Twitter
Have a tip we should know? tips@mediaite.com