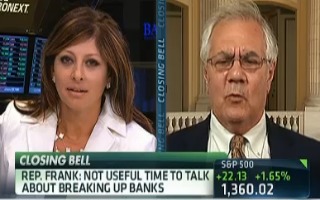 On Thursday, Maria Bartiromo invited outgoing Massachusetts Democratic Rep. Barney Frank on her CNBC program to discuss proposals to break up big banks. The conversation quickly became adversarial when Bartiromo attempted to make Frank get specific on banking reform regulations.

RELATED: CNBC's Maria Bartiromo Hammers Eliot Spitzer For Prosecuting AIG Executives For Personal Reasons
The conversation became heated when Bartiromo attempted to get Frank to define what the Volcker Rule would mean for banking regulation. "So you're going to leave it up to the banks to tell you, 'this is proprietary trading,'" Bartiromo said before being interrupted.
"Maria, if you want to have a serious conversation, let's have it," said Frank.
Frank said that regulators would define the Volcker Rule, not the banks. Bartiromo pressed to get Frank's impression of how such a rule would be implemented when Frank became irritated. "Your kind of mocking this in an inappropriate way," said Frank.
Bartiromo attempted to gauge Frank's impression of when the Congress would get serious about banking reform.
"So, what's the realistic vision in your view then? Do you think this gets done after the election, do you think this gets done in 2013," Bartiromo asked. "Is it going to be threatening the U.S. economy going into recession if in fact this is not dealt with until after the election?"
At this point, Frank said that there could have been movement on the issue of banking reform but for Republican intransigence.
I don't think it's a threat if it waits until after the election. It would be, I think, if it waited until 2013. The point is that after the election it still hasn't taken effect. Look, there's a problem with this. And again, if you don't like it, I'm sorry, but the Republican Tea Party people, not all the Republicans, but the Tea Party people held up passing a debt relief increase and the CBO said that cost the economy a trillion dollars in increased costs. That's just the responsibility, that's not equally shared responsibility.
Watch the interview below via CNBC:
> >Follow Noah Rothman (@Noah_C_Rothman) on Twitter
Have a tip we should know? tips@mediaite.com