CNN Anchor Gets In Explosive Personal Battle With Conservative Over 'Legality' Of Gay Marriage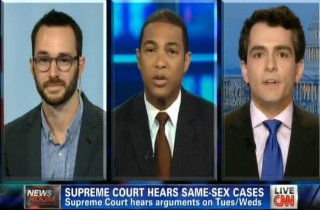 On Monday, a debate on CNN over the issues headed to the Supreme Court this week relating to the constitutionality of prohibitions on same-sex marriage and the right of same-sex couples to receive the same federal benefits as straight couples exploded. Heritage Foundation scholar Ryan Anderson got into a heated and tense exchange with CNN anchor Don Lemon after he asserted that there are no laws currently on the books that make gay marriage "illegal." Lemon resented Anderson's assertion, calling it "absurd."

RELATED: Evangelical Leader And GOP Strategist Battle Over Same-Sex Marriage's 'Radical Agenda' On Fox News Sunday
"Just to clarify, the issue here is not legality," Anderson began, "so, in all 50 states, there is nothing illegal about same-sex marriage."
"Hang on," Lemon interjected. "You said same-sex marriage is not – is not illegal?"
"When something is illegal, it's criminal to engage in that activity," Anderson clarified.
The two engaged in crosstalk before Lemon insisted that, as the anchor of his program, he can interrupt any guest as often as he likes. "It is illegal – gay people don't have the same rights," Lemon insisted.
"It's not illegal," Anderson countered. "When something is illegal you can go to jail for doing it."
The crosstalk was reignited when Anderson accused Lemon of using "the wrong terminology" to describe what is at issue before the Supreme Court regarding same-sex marriage.
"You can't go to jail for committing a same-sex marriage," Anderson added.
"Finish your point, as absurd as it is," said Lemon, throwing up his hands.
The pair blew up again after Anderson insisted that it was gay rights activists who were attempting to redefine the definition of marriage for everyone. Anderson insisted that children fare better in life when raised in two-parent households. "Ryan, there is so much wrong in what you said that children do best when they are with their married parents," Lemon said. "Not all married parents are good parents."
"No one said that," Anderson insisted. "I said children do best—"
"That's not true," Lemon insisted.
Watch the clip below via CNN:
> >Follow Noah Rothman (@NoahCRothman) on Twitter
Have a tip we should know? tips@mediaite.com