Shame On CNN, Fox For Embracing Conspiracy Theories Surrounding Death Of Michael Hastings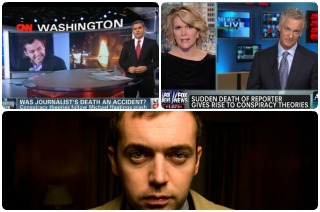 As National Review columnist Jim Geraghty observed on Thursday, a new documentary alleging that the crash of TWA Flight 800 was brought down by an external explosion has been generating inexplicably credulous coverage on cable news. The phenomenon of propping up conspiracy theorists has now apparently extended to the death of BuzzFeed reporter and Rolling Stone contributor Michael Hastings who died early Tuesday morning in a car accident. In the wake of his death, CNN and Fox News have opted to broadcast – largely uncritically – conspiracy theories surrounding his death. This is irresponsible and marginalizes Hastings' considerable legacy.

On Thursday, CNN reporter Casey Wian noted that Hastings had a "penchant for unvarnished criticism of military authorities."
"Even at this make-shift memorial, there are questions about Hastings' death," Wian said standing before the spot where Hastings died. Wian read a card placed near the tree that Hastings hit with his car. "I pray your death was an accident and not purposely done by those who don't like you," the card read.
The CNN reporter noted that Hastings' final article for BuzzFeed asked and answered, "Why Democrats Love To Spy On Americans." The implication, fueled by the variety of disturbing scandals surrounding the administration's monitoring of Americans' communications and their intimidation of journalists, is clear.
CNN was joined by Fox News Channel host Megyn Kelly and reporter Trace Gallagher who also dove into the conspiracy theories surrounding Hastings' death on Wednesday. "Some are asking if there is more to his death than meets the eye," Kelly noted, leaving the "some" in that sentence to the imagination.
Gallagher noted that Hastings' reporting often made him a target of the frustration of those in positions of authority. Gallagher reported, in a perfunctory fashion, that police consider Hastings' death an accident and there is no proof that anything suspicious occurred. Then why broadcast the report on what "some" think about the BuzzFeed reporter's death in the first place?
Current TV's Cenk Uygur reported Wednesday that Wikileaks had revealed that Hastings believed he was being investigated by the FBI prior to his death. Uygur said that Hastings was "agitated" and he did believe he was being harassed by individuals in positions of power.
There is ample hard evidence to believe, at this point, that individuals in positions of authority are willing to and often do abuse their positions and harass political adversaries. There is no evidence, however, that federal authorities would orchestrate anything like what is being implied by "some."
Indeed, the FBI has stated unequivocally that Hastings was not the subject of an investigation. "At no time was journalist Michael Hastings ever under investigation by the FBI," said L.A. Field Office spokeswoman Laura Eimiller to Hastings' hometown paper, The Burlington Free Press.
Further debunking conspiracy theories surrounding Hasting's tragic demise, police have concluded no foul play was involved in his death and his body has been positively identified via fingerprints.
To their credit, MSNBC has not given the conspiracy theorists pet paranoia the outsize coverage its competitors have. In fact, the eulogies and tributes that prime time hosts Chris Hayes and Rachel Maddow broadcast for the late reporter have been deeply moving.
One tribute, delivered by Hayes last night, paid sincere homage to Hastings' work, his personality, and his ethos. It was especially affecting. Hayes manages to identify precisely what made Hastings such an effective reporter – a lack of regard for propriety. Observing decorum, which can often mean burying or altogether ignoring stories in order to preserve access to sources or the regard of one's peers, can often be the enemy of potent reporting that advances – or, in the case of Gen. Stanley McChrystal – ends careers.
Hayes eulogy for Hastings is as touching as it is important. His memory should not be marred by the advancement of baseless conspiracies surrounding his death. Instead, he should be remembered for what he accomplished while he was alive. Kudos to MSNBC for doing just that, and shame on those outlets who surrendered to the impulse to add fuel a justified suspicion of the federal government by reporting unsubstantiated speculation surrounding the tragic death of Michael Hastings.
> >Follow Noah Rothman (@NoahCRothman) on Twitter
Have a tip we should know? tips@mediaite.com