CNN Investigates U.S. Embassy Vehicles Targeting Egyptian Protesters In Hit And Run Attacks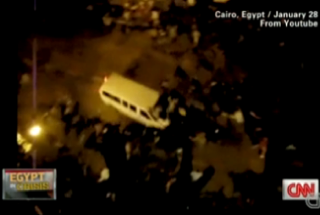 The chaos on the streets of Cairo appears to have little end in sight, but as the bulk of the information coming in from Egypt these past few days is increasingly delayed by government attempts to shut the nation's communicative resources off, newer and more alarming narratives begin to unfold. On last night's Anderson Cooper 360º, Anderson Cooper attempted to make sense of footage of a U.S. Embassy vehicle appearing to intentionally slam into and injure protesters.
The video, shot on January 28th, shows an overhead image of a white van driving into a street flooded with protesters, with little regard for the ones being swept under its wheels as it sped through. In fact, based on the footage one could argue that the drivers were intentionally running over protesters, though given the angle of the shot and the time of night, it is impossible to see who was in the van. The plot thickens as the van itself is identified to come from the American embassy, and U.S. government officials have said that they are aware of stolen vehicles and reports of criminal activity with them. Cooper also eliminated the possibility that the vehicle would be speeding through in order to avoid being attacked by pro-Mubarak forces, a phenomenon that only began after January 28th. Of the mystery, correspondent Jill Doherty noted the added level of complexity to these attacks– that they could very well "spark anti-American sentiment" should people be aware of what kind of vehicles are attacking but not who is in possession of them.
Cooper's report via CNN below:

Have a tip we should know? tips@mediaite.com