CNN Reports FBI Has Found 'No Criminal Wrongdoing' in Hillary Clinton Email 'Investigation'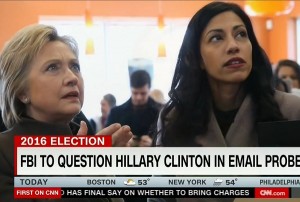 For all those Hillary Clinton opponents who have been hoping against hope that the likely Democratic presidential nominee will be indicted as a result of the FBI review of Hillary's email server, CNN has some bad news. According to CNN correspondent Pamela Brown, the FBI is close to wrapping up the "investigation," and thus far have found "no criminal wrongdoing":
The interviews, we're told, are focused on whether classified information was mishandled, and the security of the server. So far officials tell us, no, there is no evidence of criminal wrongdoing at this point in the investigation, but, again, the investigation is not over.
It sounds like they're really just waiting for Hillary Clinton to be interviewed so they can wrap things up, but if Republicans and Bernie Sanders and the media are counting on Hillary Clinton to suddenly crack under questioning, they haven't been paying attention.
Now, I know many of you are probably wondering what makes this report different from all the other Emailgate reports that people like me dismiss, and it is a good question. The answer is in the attribution, as found in CNN's online report, which is curiously headlined to ignore the newsworthy exculpatory finding:
Some of Hillary Clinton's closest aides, including her longtime adviser Huma Abedin, have provided interviews to federal investigators, as the FBI probe into the security of her private email server nears completion, U.S. officials briefed on the investigation tell CNN. The investigation is still ongoing, but so far investigators haven't found evidence to prove that Clinton willfully violated the law the U.S. officials say.

In recent weeks, multiple aides have been interviewed — some more than once, the officials said. A date for an FBI interview of Clinton has not been set, these officials said, but is expected in the coming weeks. Abedin has cooperated with the probe, the officials said. Lawyers for Abedin declined to comment. The officials say the interviews of Clinton and her aides would be a routine part of an investigation like this.
If you look at the reporting that has later been debunked, like the 147 FBI agents that were working on the case who turned out to be 12 guys and maybe some interns, the sourcing is always a thinly-veiled attribution that translates to Republican leaks. This is different. A news editor would be hard-pressed to allow a reporter to describe Republican lawmakers and aids as "US officials."
What that means is that this is likely an agency leak, likely from the State Department, which does carry its own baggage, but which is heaps more credible than a leak from Trey Gowdy.
This is an opinion piece. The views expressed in this article are those of just the author.