CNN's Don Lemon Clashes With Conservative Blogger Over Fallout From Gay Romney Advisor Controversy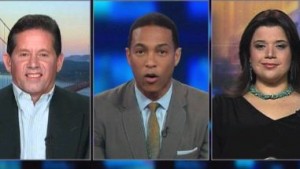 Last night CNN's Don Lemon brought up the latest in the saga of the gay foreign policy spokesman for the Mitt Romney campaign who parted ways with them last week. It was only after he left that Romney publicly said he didn't want Richard Grenell to leave. Lemon got into a heated argument with Newsbusters associate editor Noel Sheppard over why Romney didn't do more to keep Grennell on and only waited until he left before speaking out in his defense.
RELATED: Jennifer Granholm Blasts 'Hollow Man' Mitt Romney Over Failure To Stand Up For Gay Advisor
Lemon brought up Romney's innumerable flip-flops and his reaction to Grenell being ousted from his campaign, asking if there is any issue on this earth that Romney has been consistent on in his entire public life. Republican strategist Ana Navarro said from the very beginning, Grenell should have been doing his job as a foreign policy spokesman for the Romney campaign, and that's the only thing he should have been judged on. She did acknowledge "a few folks" on the far right who were publicly opposing Grenell because of his sexuality, but she didn't think that was the primary motivator for him leaving the campaign.
Sheppard, however, thought the whole conversation over this has been a complete waste of time because a majority of Americans have prioritized the economy in this election, and only a few are doing so with family values and social issues. He said that the Obama campaign wants to talk about the extremes of the Republican party because it distracts from the economy.
Lemon, however, called Sheppard out for relaying a talking point. He noted that Grenell had absolutely no interest in talking about gay rights since his arena was foreign policy, and questioned Sheppard as to why he thought the resignation was suddenly all about gay rights. Sheppard said that based on what he learned about the circumstances surrounding the departure, Grenell chose to leave of his own volition, and asked Lemon exactly how that made anything Romney's fault.
RELATED: Brass Ones: Romney Camp Brags About Denouncing Intolerance, But Not Of Gay Former Advisor
Lemon said his point was to ask if there was nothing in this whole wide world Romney would not eventually back down from after being slightly pressured. He asked again why Romney didn't just defend Grenell from the very beginning. Sheppard said that Romney stated he would hire Grenell back, asking what more Romney could do for him.
Watch the video below, courtesy of CNN:
Have a tip we should know? tips@mediaite.com
Josh Feldman - Senior Editor