Colbert: You Can't Take Football Away From These 'Brain-Damaged' Fox Hosts!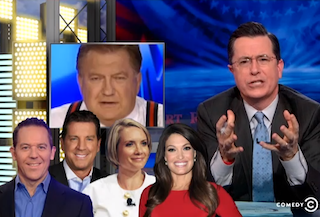 To close out his week-long coverage of "Superb Owl XLVIII" Thursday night, Stephen Colbert took on some of football's health concerns, namely the potential use of medical marijuana and the permanent brain damage that so many NFL players suffer on the field. On the latter issue, Colbert found some people who could not imagine losing the enjoyment of watching football just because the players might be dealing with life-threatening head injuries.
"I've got nothing against brains, some of my best friends have them" Colbert said, "but you cannot scrap football over brain damage. Just ask the brain-damaged." From there, he cut to clips of Fox News' Kimberly Guilfoyle, Bernie Goldberg and Bob Beckel defending the sport despite the risks.
"In this day and age, people are not very happy in their lives," Beckel said on a recent episode of The Five. "The one thing they've got to look forward to is football."
"Yes! Some people's lives are so bleak," Colbert said, pointing to Beckel, "stuck in a soul-crushing and pointless job, surrounded by coworkers who don't respect them, that the only bright spot in this tundra of futility is laying on the couch in a nacho-induced coma, just praying by the grace of God they'll choke on a chicken wing and end it all. You can't take that away from Bob Beckel, it's his only hope!"
Watch video below, via Comedy Central:
[photo via screengrab]
— —
>> Follow Matt Wilstein (@TheMattWilstein) on Twitter
Have a tip we should know? tips@mediaite.com