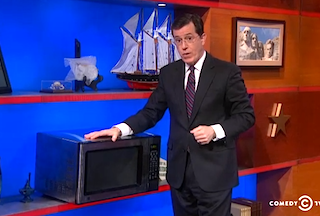 Earlier this week, Bill O'Reilly announced that he was auctioning off the handwritten notes from his pre-Super Bowl interview with President Barack Obama to benefit the Fisher House for military families. Not to be outdone, Stephen Colbert revealed his own auction last night, this one of the microwave oven he says he stole from O'Reilly's green room when he appeared on the show back in 2007.
"Historians can debate who came out on top," Colbert said of his sit-down with O'Reilly. "But only one of us came away with the other's microwave oven." The host explained that he had to take it because the carousel inside "technically makes this a spin zone."
Instead of starting the bidding at $10,000 as O'Reilly did with his notes, Colbert looked at the going rate for seven-year-old microwaves on eBay and decided to start it at $43, with all proceeds benefiting the Yellow Ribbon Fund, which also helps injured service members.
Less than 12 hours after the show aired last night, bidding on the eBay page for the microwave has reached $85,100. That's nearly three times the $30,000 O'Reilly is currently getting for his notes.
Colbert left this note for potential bidders on eBay:
"Nation, don't miss your chance to bid on what one day historians will say I said was history; the microwave I stole from Bill O'Reilly when I appeared on his show in 2007. Not only has it been an iconic piece of my set for seven years, but it is the last known remaining spin zone from the O'Reilly Factor, and it can microwave the heck out of a frozen burrito. It is also signed by yours truly, and one hopes by Papa Bear himself. Bid now, bid often, and bid big, because who knows what other celebrities will sign it, or not. One of a kind."
As Colbert says, he has not yet gotten O'Reilly to sign the microwave, and there's no real evidence that it actually came from the Fox host's dressing room. What are the chances that Colbert has been planning this epic long-con since 2007? Either way, fans of the Colbert Nation clearly can't wait to get their hands on it anyway. And with nine days left on the auction, who knows how high the bidding could go?
Watch video below, via Comedy Central:
[photo via screengrab]
— —
>> Follow Matt Wilstein (@TheMattWilstein) on Twitter
Have a tip we should know? tips@mediaite.com