Conservatives Whine About Liberal Hollywood And 'Palin Bashing' At Golden Globes, Ignore CIA's Big Night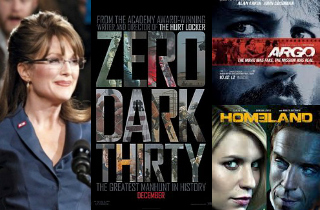 Another Hollywood awards show, another three hours of noxious self-congratulation, the usual snubs and surprises, and conservatives whining about "Hollyweird" doing something liberal.
It's not hard to understand why conservatives hate Hollywood — there's an undeniable bias towards all things liberal, and smug celebrities typically subscribe to the school of limousine liberalism — but much of last night's indignation was hackneyed and, at times, hilarious given how the night panned out.
The outrage started almost immediately, after HBO's Sarah Palin film Game Change won the early awards for Best TV Miniseries/Film, Best Actress in the genre (Julianne Moore as Palin), and Best Supporting Actor in the genre (Ed Harris as John McCain).
The Perpetual Outrage™ brand of conservatives came out of the woodwork to express their anger that the liberals in Hollywood would give any sort of award (however meaningless) to an HBO movie that portrayed their lowly 2008 presidential election hero in any way other than how she or they would like her to be portrayed.
Fox News radio host and nominee for "King of Being Upset About Things" Todd Starnes tweeted off a frenzy of complaints, lambasting the Academy Awards as "honoring Hollywood thuggery," and contributing to the "War on Women" by celebrating such a TV film.
Further fueling the conservative indignation was the fact that Game Change producer Jay Roach took a rather mild (considering the subject) jab at Palin: "Now with [Julianne Moore] and Tina Fey, we have three of the most incredible impersonations of Sarah Palin… counting Sarah Palin," he said.
Starnes continued his fury by saying the awards ceremony had turned "into a night of Palin-bashing," and calling on President Obama to condemn the Palin "bullying." Roach's speech was eyeroll-worthy when he called Moore "brave" for playing Palin, but to say that one little joke was part of a night of unending "Palin-bashing" is a tad overwrought.
And even goofier than the Palin-related conservative whining was their pre-show griping that liberal Hollywood was actively punishing films like Zero Dark Thirty and Argo for portraying their beloved Central Intelligence Agency (and, in Zero's case, their beloved "waterboarding" method of torture) in a mostly positive, humanizing light.
Neoconservative author and "pop culture expert" (LOL!) John Podhoretz (who is never wrong about anything) was one of many claiming that the media and Hollywood have an animus towards those films' "pro-CIA" messages.
But, boy did the Globes prove them wrong:
Showtime series Homeland depicts the CIA in a neutral light, humanizing rather than condemning the agents' work. And oh, it won THREE awards in its genre: Best TV Series Drama, Best Actress (Claire Danes), and Best Actor (Damien Lewis).
Zero Dark Thirty presented, in a very journalistic fashion, a series of events leading up to Osama bin Laden's 2011 capture, including the torture of detainees by CIA agents. Jessica Chastain won Best Actress for her role as the movie's heroine who goes great lengths to track down the notorious terrorist leader. Director Kathryn Bigelow received considerable applause when Chastain thanked her during the acceptance speech.
Ben Affleck's Argo depicted CIA agents as heroic in a struggle against militant Islamic forces during the Iran hostage crisis. Affleck won Best Director… and the movie won a little award called "Best Picture." (Starnes' reaction was reliably awful.) Oh, and during his acceptance speech, normally-America-hating Affleck thanked the troops.
Immediately after the ceremony ended, Breitbart.com posted one its typically blaring headlines, "Liberalism Scores Big At Golden Globes," with an image of Girls star Lena Dunham. So… apparently a few awards for the younger version of Sex and the City is considered a huge win for liberalism? Did the rest of the evening not happen at all?
The best part was that after fellow New York Post columnist Robert George suggested Podhoretz may have been proven wrong, the neoconservative dismissed the Globes as having been voted upon by "86 corrupt morons from Luxembourg" and that Affleck likely "bought" them off. Okay.
And then this morning, Fox & Friends continued its quest to connect the dots, noticing the Globes' results and asking if, by contrast, the Academy is trying to punish "pro-America" films. Even Donald Trump refused to read the conspiratorial tea leaves with Steve Doocy et al.
While Doocy, Podhoretz, and others seem to think that the "Best Director" Oscar snub for Affleck and Bigelow means the Academy is trying to flog them for straying "off script," it ignores reality: the movies were nominated for all the other prestigious awards, including the big one, "Best Picture." Not to mention the fact that, hey, these are the Academy Awards — Raging Bull lost to Ordinary People, Saving Private Ryan lost to Shakespeare in Love, Martin Scorsese didn't win Best Director until 2007, Alfred Hitchcock never won Best Director, etc. — so the whining is especially silly.
Of course, as the furthest thing from a government-loving lefty, I acknowledge that Hollywood is generally full of liberals, and so sometimes critically-acclaimed films do get ignored for their non-leftist politics (see: Waiting for "Superman"). But ascribing quasi-conspiratorial motives for Zero Dark Thirty and Argo not getting enough awards nominations is a bit over-the-top — especially considering how the Globes panned out and the fact that the two CIA movies were awarded for pretty much every Oscar under the sun, aside from "Best Director."
Perhaps it's time for conservatives to drop the "perpetually whining about liberal Hollywood" shtick, especially during those moments where it comes off as unnecessarily whiney.
— —
>> Follow Andrew Kirell (@AndrewKirell) on Twitter
Have a tip we should know? tips@mediaite.com