Gay Marriage Rulings Make MSNBC's Harris-Perry Sad Because They Gut 'Power Of Federal Government'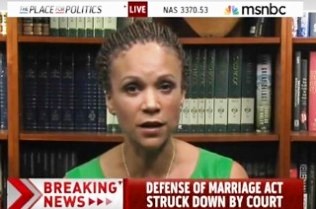 Well, at least she's consistent.
MSNBC host Melissa Harris-Perry joined anchor Thomas Roberts on Wednesday to react to the Supreme Court's rulings on the cases relating to gay marriage rights in the United States. Harris-Perry threw cold water on the celebrations ongoing at 30 Rock when she lamented the Court's decision to not rule in the case against Proposition 8. She said that this ruling, along with other decisions the Court handed down this session, "gut the power of the federal government" and prevent Washington D.C. from declaring gay marriage the law in all 50 states.

RELATED: Live On MSNBC, Obama Calls Prop 8 Plaintiff's Cell Phone Mid-Interview With Congratulations
"It's been kind of a rocky week for rulings from the Supreme Court," Roberts opined.
Harris-Perry agreed and apologized for being the cautious voice in the room and interrupting the "celebratory" atmosphere on MSNBC.
"As much as those of us who are allies of this movement, and those of us how've been working hard on the question of marriage equality would like to read this in the broadest sense," Harris-Perry began. "What they did, all week long – from the beginning to the end of this week so far – is to gut the power of the federal government."
Harris-Perry approved of the Court striking down DOMA and sending Prop 8 back to California, but noted that "marriage may be even farther away" in other states because the federal government cannot now pass a law forcing gay marriage rights on more conservative states.
Some conservatives, who I believe are misguided in their opposition to the Court's decision to strike down DOMA and not rule on Prop 8, which effectively legalizes gay marriages in California, can take some heart in Harris-Perry's analysis.
She is correct; the Court did "gut the power of the federal government" and returned the issue of gay marriage to the states where federalist remedies are rapidly leading to legalization of gay marriage. Some states will move faster than others, but the federalist method of working out the contentious issue of same-sex marriage rights will ultimately lead to consensus and comity. It is the method of achieving national reconciliation that the Founders would have preferred.
Harris-Perry would have preferred an activist decision. She would prefer that federal legislators be able to force gay marriage on areas of the country moving too slowly for her tastes. That says a lot.
Three cheers for federalism.
Watch the clip below via MSNBC:
> >Follow Noah Rothman (@NoahCRothman) on Twitter
Have a tip we should know? tips@mediaite.com