Dave Chappelle Addresses Trump's Victory on SNL: 'I'm Going to Give Him a Chance'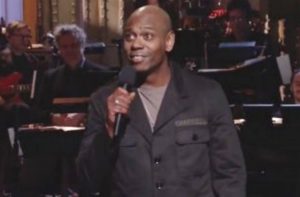 Dave Chappelle is tonight's host on Saturday Night Live, and there was no way he could give tonight's opening monologue without addressing Donald Trump's upset victory in the 2016 election.
Musing about how America elected an "internet troll" to be its next leader, Chappelle took a look at how many people have taken to the streets to protest the incendiary real estate mogul. He did show, though, how it is still possible to pull levity from the situation, no matter how dire it might be.
"The whites are furious. They've never seen anything like it. I haven't seen white people this mad since the O.J. [Simpson] verdict," Chappelle said "I watched a white riot in Portland, Oregon, on television the other night. News said they did a million dollars worth of damage. Every black person watching was like, 'amateurs.'"
Chappelle did get more serious though, recognizing that with everything from the Pulse nightclub shooting to the death of Harambe, America has already been through quite a lot over the course of this year. Now that Trump will be the next president and he's already met with President Obama, Chappelle was curious as to how Trump will do when he already looked "shook" at the meeting.
While Chappelle remarked that America will miss Obama when he leaves the White House, he went on a comedic freestyle over what it was like for the country to have an African-American president for the first time in its existence. Reminiscing about a party he attended which BET hosted at the White House, Chappelle remarked that it made him feel "hopeful" to see how far black people in the country have come after being historically disenfranchised.
"It made me feel proud to be an American and it made me very happy about the prospects of our country," said Chappelle. "So, in that spirit, I'm wishing Donald Trump luck. And I'm going to give him a chance. And we, the historically disenfranchised, demand that he give us one too."
Watch above, via NBC.
[Image via screengrab]
— —
>> Follow Ken Meyer (@KenMeyer91) on Twitter
Have a tip we should know? tips@mediaite.com