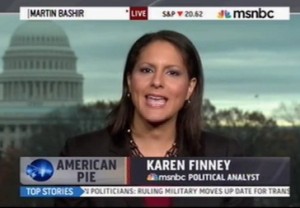 Former Speaker of the House Newt Gingrich is the talk of the town today, as cable news pundits wonder whether the GOP's current presidential frontrunner has risked his nascent lead by referencing a "humane" immigration policy at last night's debate. On MSNBC's Martin Bashir show this afternoon, Democratic strategist Karen Finney slowed the Newt "Humane Train" by noting that "he is a little like a sociopath. On the one hand, he is talking about humanity and the compassion. And he is saying little kids should go scrub toilets so they get work experience."
With The Washington Post's Eugene Robinson filling in for Bashir, the panel discussed some of the goings-on at last night's Republican debate. Riding high as the GOP's latest Spinal Tap drummer of a frontrunner, Gingrich may have imperiled that status by urging "humane" immigration policy at last night's debate. Robinson asked Finney if she thought Gingrich might go the way of Rick Perry, the last GOP candidate to tug at the immigration heartstrings.
Finney replied, "Newt gingrich is crazy like a fox," adding that "this is clearly a play for a general election issue, knowing that the Latino vote will be very important. It moves him to the center a little on an issue where Mitt Romney is trying to be more to the right."
Missing from this discussion, though, is the fact that Gingrich is being given "humanity" credit for carving out an exception so narrow that it only looks humane next to the most merciless of policies. He's recommending legal status, not citizenship, for people who have been here for 25 years, who have children or grandchildren, who have paid taxes, and who have joined a church (sorry, atheists, Muslims, and Jews). I don't think this was a play to the general election audience, I think Newt genuinely believed that even the hardest immigration hardass wouldn't disagree with him.
Finney correctly pointed out, though, that even Gingrich's most recent remarks belie the notion that he's some font of humane policy. "Remember, Newt Gingrich has plenty of other crazy that he talks about when he talks about things like, little children scrub toilets and telling people to go take a bath, Finey said. "He is a little like a sociopath. On the one hand, he is talking about humanity and compassion,  and he is saying little kids should go scrub toilets so they get work experience."
Here's the clip, from MSNBC:
Have a tip we should know? tips@mediaite.com