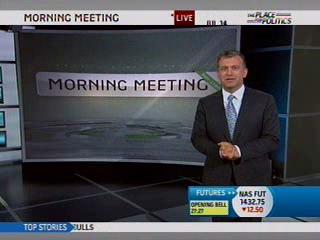 Dylan Ratigan left CNBC in March, with indications pointing to him heading to ABC. A little more than a month later, to the surprise of many, he was back in the NBCU family – arriving at MSNBC to host a two-hour morning show. On June 29, MSNBC launched Morning Meeting with Dylan Ratigan, which is up 21% in total viewers from July '08 so far after two weeks. "I know I don't have all the answers, but I know I have a ton of questions," Ratigan tells Mediaite.
We talked to Ratigan yesterday afternoon about his bevy of interesting regular guests, why "information is ubiquitous" now (and how he plans to deal with it) and what exactly happened at the end of his time at CNBC:
Mediaite: You've now been hosting for just over two weeks. How are you liking it?
Dylan Ratigan: So far so good. I think it's going as well as we could have hoped. The goal is to create an environment for interesting conversation where everybody can basically say what they think the truth is and debate what the truth is on any given subject on any given day. It seems to be working pretty well.
M: You're moved from focusing on business news solely to a much broader show. How has that transition been?
DR: What I've found is for a lot of things, whether it's health care, energy, jobs, money is part of the conversation because of what happened with the banks, etc last year, has become policy conversation. Money actually is policy, and policy is money. My experience with money applies directly to a lot of policy conversation. Now we just had a two-hour Michael Jackson special, which is just an exercise in trying to make good conversation, which is something I have a lot of practice with certainly from Fast Money. It was similarly an unscripted show with a group of people making conversation. Our bet is smart, provocative, conversation, that plays toward truth as opposed to left or right, hopefully is a desirable product in this country.
M: Well, some of the people who have contributed to the conversation have appeared regularly on your program. I made the joke early in your first week that Eliot Spitzer was the "Mika" to your "Joe," and that may not be exactly true but it seems these compelling guests, like Spitzer, Stephen A. Smith, formerly of ESPN, Contessa Brewer, appear for long periods of time and quite often.
DR: If we were a store of any kind, the shingle hung outside would be that our mission is to sell smart, provocative, accessible, conversation about whatever is going on in America that day. Regardless of Eliot Spitzer's personal aspects, his professional history is very compelling, he's a driver of conversation, and my attitude is, 'Get me Eliot Spitzer because I want to have a compelling conversation.'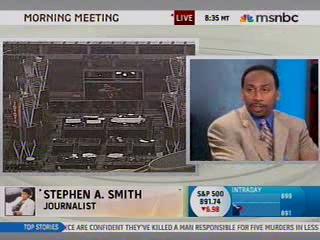 Stephen A. is simply an incredibly compelling conversationalist. If what I'm selling is dialogue, not monologue, the only way to move forward is with compelling people to converse with. What you'll end up seeing with the show is a cadre of a few dozen people who regularly sit on panel and help me create conversations. We'll bring specialized guests and politicians on for specific topics.
I feel like information is ubiquitous at this point. The value of just having information couldn't be lower because it's available everywhere. The value added by CNBC, MSNBC, CNN, FOX, I don't care, is the ability to take information and tell a story. Everybody already has information but no one has any idea what's going on. Part of the challenge with Fast was to do that, and the challenge with Morning Meeting is to take that model and and expand the lens beyond money to policy in America. We're long on information and short on stories.
M: Do you pay attention to what your competitors are doing? Do you play against anything that's happening at the other cable news networks?
DR: I'm playing against myself. I feel like to look at what other people doing at the time slot has little creative value for me and the people working with. How compelling, accessible and how complete our conversation is, that will be how we measure success. The truth is, I'm not even watching those things.
M: Is it the same with the Today show?
DR: It's a broader product that ultimately we may compete with in time slot, but I don't know we compete with in content. I don't see them as a competitor. You may have a better perspective than I do because you watch everything, what do you think?
M: Well, I don't think you compete with the Today show, but obviously there's a choice when it comes to cable news. But it seems like you're doing something different than what was previously done at MSNBC at 9am. Instead of what CNN and Fox have, which is billed as "news," you're not doing the same thing.
DR: It definitely is not. I have the belief, and Phil Griffin has the belief, that there is value added in the analysis of information and to connect the dots through accessible conversation. That's currently what you're watching us attempt, and hopefully it will succeed.
I will say this – I couldn't ask for a more graceful launch. I'm so appreciative of Phil and MSNBC and NBC News for helping achieve that.
M: You've moved from the late afternoon and prime time at CNBC to the morning. Do you see a difference?
DR: It's a crazy difference. One is you digest the day and then craft the series of stories to reflect that day. The other is you work all the time to be prepared, in order to have compelling conversation in the morning about what is likely to be the conversation for the day. One is setting and reacting to the agenda for the day, the other allows the day to develop and then provide conversation about what happened that day.
I certainly wake up in the morning and think, 'Do these people want to deal with me in the morning and do I want to deal with them?' I'm joking, of course. But I'm loud, I'm intense. It's one thing to be dealing with someone of my personality in the evening and it's another thing in the morning. There's an awareness of that. The show model is sort of a 21st century Larry King on steroids. It's about the story of the day, but with modern technology, modern access, modern support. We go from energy policy to Michael Jackson and back again.
M: Let's go back to CNBC for a second. There was a lot of speculation about your exit from the network. You left, there was rumors about you going to ABC, and then quite surprisingly you were back at MSNBC. Can you talk about what happened at the end of your time with CNBC?
DR: Here's what I can say for me, having been around and in the finance business for Bloomberg for a decade, and CNBC for half a decade, give or take. When I watched what happened last fall, and when capitalism switched from who has the best ideas to who can bribe the government so we can steal taxpayer money, it made clear I wanted to make a move from a financial bias to a policy bias in journalism.
What you saw at the end of my contract from CNBC was CNBC understandably wanting me to continue in regard to the stock market and me understandably seeking to expand the conversation away from the stock market into policy failures that plagued our country. There's an unanswered aspect in my answer. The truth is, I was always in conversations with Phil and MSNBC when my contract expired. So I stopped working at CNBC, but the conversation continued. The truth is we were not able to get an agreement until June 1. So unfortunately there were aspects of an ongoing conversation that went well beyond the contract that I was under, which forced my hand, and absent another agreement we had to continue to have conversation until we got to that agreement.
M: Well that makes sense, but there were also rumors…
DR: What rumors? Ask me anything.
M: Well, there was a tape leaked.
DR: To the extent anything was published about personal conflicts, I would chalk up to typical tension that exists in any creative environment. My departure unequivocally had nothing to do with tension at CNBC, if only for the reason I'm not so foolish to make decisions on my career based on personality aspects with anyone. The stakes are too high to be making decision based on who's friendly and who's not. When what's at stake is the option to participate in conversations like Morning Meeting, like policy failures, American life, American culture. It's so much more driven by positive aspects. I think people look for negative motivation in general, when frequently there are positive narratives that drive people to take action. I've never made a decision inside CNBC based on who I liked or didn't like or who I didn't get along with.
M: You told Jon Friedman in 2007 your dream job would be hosting a late night show. Is that still your dream job?
DR: I kind of have my dream job. Would hosting a late night show be a dream job? You bet. But hosting a cable show on MSNBC, where I get to harass and talk to smart, interesting people may be better. I'm not sure I'm that funny, but I know I can give people a heck of a hard time and make for some compelling conversation along the way.
—–
• Follow Steve Krakauer on Twitter
Have a tip we should know? tips@mediaite.com