Ex-CNN Anchor Leon Harris On New Fox News Hire: He May Love "Conservative Bias"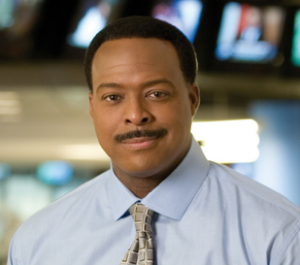 Ex-CNN anchor Leon Harris, who's working these days as an anchor at WJLA-TV in Washington, D.C., says a reporter fired from his station and just-hired by Fox News may have intended to lose his local gig so he could land at Fox.
Harris tells Media Matters reporter Doug McKelway seemed to shed his professionalism in favor of seeking out a "YouTube moment" that might hasten a high-profile firing.
"I know what it looks like when a guy wants to get fired," said Harris:
"His last couple of years had left a lot of people inside scratching their heads wondering where he was coming from," Harris, a former CNN anchorman, said Sunday. "It seemed like to me from where I sat he was looking like someone who was trying to find a way to be fired. He may have found that he loves conservative bias news coverage and conservative talk and that is where he wanted to be and he might have found a way to get to it."
McKelway did make headlines earlier this year and was fired after a heated meeting with WJLA news director Bill Lord after a story McKelway did on a Capitol Hill protest that critics claimed included the reporter's overtly political commentary about President Obama.
McKelway has just signed on with Fox News's Washington bureau, which apparently prompted a host of former colleagues at WJLA to spill to Media Matters:
Last week, several WJLA staffers offered criticisms of McKelway to Media Matters. Harris added to their thoughts, noting that it appeared to him McKelway wanted to take his talents to a place where he could express his conservative views.

"For him to go off the way that he did was almost like somebody trying to pick a fight," Harris added. "The scuttlebutt in the newsroom was 'I wonder if he's got a deal worked out at Fox or talk radio,' the two places we'd thought he'd land. It seemed as though he was trying to orchestrate his own firing."

About the BP story, Harris stated: "I was shocked because he didn't seem like the professional we all thought he was and he seemed like a guy looking for his YouTube moment. If he had an ulterior motive to either go to Fox or get out of his contract or go to talk radio, if I were cynic, that looks and sounds like a guy who has plans to try to get out of his current job to get to another one."
Have a tip we should know? tips@mediaite.com