CNN's Piers Morgan On Competing Against Rupert Murdoch: He'll Be Wanting "To Kill Me"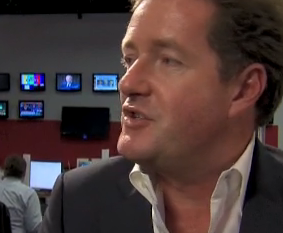 Piers Morgan, the guy who gets to "fill Larry King's suspenders" starting in January on CNN, knows a bit about going up against a goliath like Fox News owner Rupert Murdoch.
Morgan–who once worked for Murdoch as editor of the U.K. tabloid News of the World–jumped ship to the rival Daily Mirror. So it won't be an entirely new experience to slip into a high-profile spot on CNN, with marching orders to do what he can to chip away at Murdoch's gigantic ratings lead at Fox News:
"He's a brilliant boss, and he's a ruthless opponent. And I know he'll be the same with me now."
In an online interview with an oddly-familiar-looking fellow in a striped sweater (goes by the name Steve Krakauer, which sounds soooo familiar, and he's described by CNN as the digital editor of the soon-to-launch Piers Morgan Tonight) Morgan says he's invited Murdoch on the new show, and gotten good wishes:
"Part of him will be wishing me good luck–he already has, in fact–but the other part will be wanting to kill me. And that's what I quite like about him. I like the clear cut way he goes about business."
Morgan says he's ready to engage in some "combat" for ratings against Fox, and concedes that CNN "has struggled" in that mission–"taking on Fox News in a smart way that doesn't betray the brand."
Watch, from CNN:
Wait! Did that stripey sweater guy work at a website? Is that it? This is driving me crazy!
Have a tip we should know? tips@mediaite.com