Fabio Graces Red Eye With His Presence In Hard-Hitting Interview With Greg Gutfeld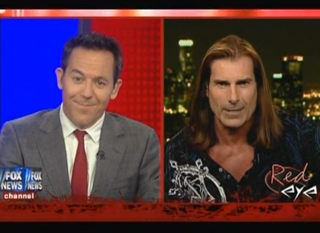 With the debt crisis taking up nearly all of the American psyche currently, it seems like the only other story worth following is the unexpected resurgence of Fabio, the romance novel cover model now fighting Isaiah Mustafa for the Old Spice throne. Fabio seems to be popping up everywhere these days, and last night he made an appearance on Red Eye, where Greg Gutfeld asked him whether he sometimes gets tired of it all and pitched him a new movie script idea.
Fabio had nothing but good things to say about Mustafa and his new job, explaining that his "duel" with Mustafa consisted mostly in things like the latter putting gum in his brush to sabotage his wonderful hair– "the Old Spice people are very creative." He said that Mustafa was pleasant so many times, Bill Schulz piped up off camera to ask Gutfeld to "ask him whether Isaiah is nice and down to earth."
Gutfeld asked a few questions that seemed to go over Fabio's head, the most complex of which was a movie script he pitched to his subject:
There's a couple up on the altar and they're about to do their nuptials, and you pull up in this convertible and you walk down the church and you go up and you go to the woman "Come away with me, I'm Fabio." She leaves her husband at the altar. She gets in your convertible and you drive off, and then you stop at a gas station and you go "Be right back honey, I'm going to go get some gum," and then you run out back, get on a motorcycle and drive off, and you just leave her there, and that's the whole movie.
"Uh… yeah," responded Fabio.
Fabio also added that he was a "people person" who never got tired of taking a picture or meeting with fans. "My philosophy is that there is only one god and all the rest are human," he declared. There is also an adorable moment at the end where he and Schulz share a friendly greeting.
The interview via Fox News below:

Have a tip we should know? tips@mediaite.com