Family First? Fox Panel Spars Over Michelle's 'Ridiculous Excuse' For Obama Not Socializing In D.C.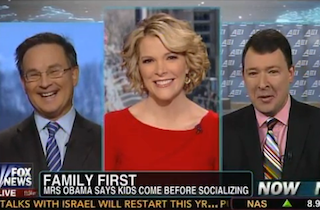 First Lady Michelle Obama graced the cover of Vogue this month, and on Thursday, Megyn Kelly's panel debated a point Obama made in the accompanying interview. Asked about President Obama's Washington D.C. socializing (or lack thereof), the first lady said their first priority is "to make sure our family is whole." Kelly and her guests questioned whether this was a legitimate excuse.
Simon Rosenberg, of progressive think-tank NDN, said he sympathized with the Obama's, elaborating on how, at the end of the day, his relationship with his children is what matters — and definitely more so than his job. "We've got to give these guys a lot of space," he added.
Marc Thiessen, who served as speechwriter for President George W. Bush, also expressed sympathy but said "this is a ridiculous excuse for not reaching out to congressional Republicans." Noting how long it took for the president to sit down with Rep. Paul Ryan to discuss budget issues, he then held up a helpful little sign on a clipboard that summed up his criticism: "600 hours for golf, 0 hours with Paul Ryan."
Everyone goodheartedly appreciated the prop, but Rosenberg then countered saying the president's recent outreach shows that he's acknowledging he needs to spend more time with members of Congress. "Not everybody brings the same set of skills," he added, and the "social side is not what animates him about politics."
Even if Michelle Obama is "covering" for her husband, "maybe it's because he's an introvert," Kelly posited. "That he doesn't really feel comfortable doing that."
That doesn't jive with his pre-sequester campaigning, Thiessen argued. Where Rosenberg saw the president growing and reaching out, Thiessen cried "damage control." To that point, Kelly noted that during the campaign we saw Obama with the likes of Beyoncé, Jay Z, and George Clooney… so it's not like he never gets out.
"He made time for them…so why not Paul Ryan?"
Rosenberg said the "thoroughly modern couple" has been working on achieving balance, and now the president is seeking to be become more available. In essence: better late than never.
Ending on a lighter note, Kelly remarked that if President Obama's spent the last four years negotiating with his daughters, Congress is "in a lot of trouble."
Take a look, via Fox News:

Have a tip we should know? [email protected]