Former Romney Advisor Richard Grenell Battles CNN Anchor Over Obama's Iran Strategy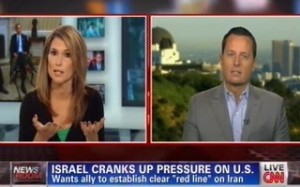 Richard Grenell, Former advisor to Mitt Romney, appeared on CNN with anchor Carol Costello where a debate about the Obama administration's policy towards a rapidly nuclearizing Iran quickly became heated.
Grenell was asked about the red line that could possibly trigger military action against Iran over their nuclear program. Grenell said that the U.S. established a red line for Iran in 2006 and said he found it shocking that the media was unclear about this key aspect United States' security policy in the Middle East.

"Why are we even debating where that red line is," Grenell asked. "The better question is, will we enforce U.N. resolutions? If we're not going to enforce U.N. resolutions, let's save $1 billion and not have the U.N."
Costello asked what the difference were between Barack Obama's red lines and those of Mitt Romney. She played a clip of Romney telling ABC news that he advocated for "crippling sanctions" to be put in place immediately and said that this was largely the same position as that of the Obama administration.
"You heard Gov. Romney, he said 'yes,' it's the same," said Costello, referring to Romney's definition of Iran's red lines. Grenell agreed. "That's not the question," he said. "The question is, are we going to be a weak country and allow a country like Iran…"
"What would governor Romney do," Costello asked.
"Let's talk about what the president would do because he is the president," Grenell laughed.
Costello insisted that there have been sanctions imposed on Iran under Obama. The two engaged in crosstalk as they argued over the timeline of when those sanctions were put into place. Costello argued that sanctions were having an effect and asked if it was not appropriate to give them more time to see if they do derail the Iranian nuclear program.
"More time," Grenell asked. "Carol, they haven't put a U.N. sanction in two and one half years. They've passed one in four years." Grenell went on to say that the top purchasers of Iranian oil were provided with waivers so they are not negatively affected by Western sanctions on Iran.
"The media needs to start looking at policies, not just lip service from this president," said Grenell. Costello argued that it was Romney that was obliged to lay out his policy preferences. Grenell said that sanction were not the answer, but a credible military threat was the only effective policy to dissuade Iran from moving forward with a nuclear breakout.
Watch the segment below via CNN:
> >Follow Noah Rothman (@Noah_C_Rothman) on Twitter
Have a tip we should know? tips@mediaite.com