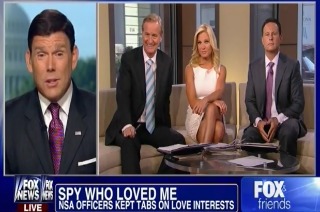 Special Report anchor Bret Baier joined the hosts of Fox & Friends on Monday where he was asked for his thoughts on the revelations about the National Security Agency's abuse of domestic intelligence gathering practices, specifically the news that agents may have been monitoring potential love interests. The hosts then quizzed Baier about his knowledge of NSA pick-up lines that have been sweeping the internet.

"Over about the last ten years, some people at the NSA who in the am amorous department, spied somebody, thought that guy or gal is cute, and then used the NSA national security apparatus to actually spy on these people who could be potential lovers or things like that," Steve Doocy revealed.
RELATED: Candy Crowley: Obama Winning on NSA, No One Will End Program That May 'Stop Next Terrorist'
"Every day we see another one of these stories, that sort of opens people's eyes to the extent at which the government could, if it wanted to, get into your personal life and see things about you that perhaps you don't want people to see," Baier agreed.
Brian Kilmeade took that opportunity to review some of the pick-up lines that commentators on the internet had recently crafted.
"Hey, baby, you must be from Google, cuz you're exactly what I've been searching for," one read.
"Roses are red, violets are blue, your pin number is 6852," read another.
Baier said that he would run those lines by Charles Krauthammer during Special Report's panel segment later that evening.
Watch the clip below via Fox News Channel:
—
> >Follow Noah Rothman (@NoahCRothman) on Twitter
Have a tip we should know? [email protected]