Fox & Friends Use Two Young Republicans To Prove Young Voters Moving Toward GOP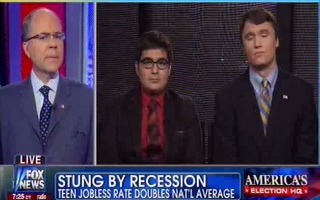 On Thursday, Fox & Friends invited two young people to discuss a report in the New York Times from this weekend which showed young voters are possibly moving towards the GOP – or, rather, away from President Barack Obama. That report showed that 30 percent of young voters are undecided in this election. But the two young people who told the Fox & Friends host they plan to support Mitt Romney cannot claim to be representative of their generation. There is polling data for that.

RELATED: Former Conservative Child Star Jonathan Krohn Is All Grown Up… And Liberal
The New York Times report from this past weekend on a study that suggests young voters are becoming disenchanted raised a number of eyebrows. The study claims that young voters have fallen out of love, not just with the Obama administration, but with the government as a whole.
The report shows that the dramatic drop in opportunities for young people has shaken their faith in the Obama administration. Younger voters are less likely to care about climate change and immigration than their own economic prospects and are deeply suspicious of federal mandates.
Fox & Friends found two young people to corroborate the findings of this study. The two founders of Turning Point USA, a young voter outreach group, joined fill-in host Peter Johnson on Thursday to discuss what they claim to be President Obama's problems among young voters.
Charlie Kirk, founder of Turning Point USA, replied that youth unemployment is staggeringly high, college loan costs have skyrocketed and the nation's debt will eventually fall on the shoulders of young voters to pay.
"We are starting to understand as a nation, more government's not the answer," said Kirk.
Johnson introduced Kirk's colleague, Miguel Melgar as a "former Obama supporter." But since he is just graduating high school today, one would have to assume that he supported then-Sen. Obama in 2008 as a 14-year-old.
"This was a man that our generation thought was going to stand up to generational theft," said Melgar. "We recognize that he betrayed us."
"In the end, is it trending towards Romney for young Americans," asked Johnson.
"I think so," Kirk replied, noting that the Romney campaign has a lot of work to do to make that a reality.
A Gallup poll taken in late April showed Obama leading Romney among voters age 18-24 by 49 to 43 percent. And that was prior to President Obama announcing his personal support for gay marriage rights and his administration's directive implementing of portions of the DREAM Act – two policy positions that polls show young voters broadly support.
The New York Times report itself cites data from an online poll by the Harvard Institute of Politics which shows Romney trailing Obama by 12 points among 18 – 24-year-old voters and Obama leading Romney by 6 points among voters age 25-29.
While Obama is perhaps ulikely to secure nearly two thirds of the youth vote as he did in 2008, he is still favored to beat Romney among young voters and by a wide margin. There is no data to suggest that young voters are moved, as the GOP surely hopes they will eventually be, by the notion that the nation's debt amounts to "generational theft."
To say, as the Fox & Friends chyron suggests, that "1st time voters may vote GOP" is unsupported by any evidence besides these two probably unrepresentative young people.
Furthermore, as we have seen this week, young people have a tendency to change their minds about politics as they grow older. Employing vocal young people to serve as bellwethers can prove more than a little embarrassing for them and their supporters when, as adults, they reflect on their views and maybe adopt different political positions from that of their younger selves.
Fox & Friends can feature these two politically motivated young people for their audience – that is fine and it is entertaining television. But to promote them as representative of their generation and cite the polling data that suggests they may be outliers is misrepresentative.
Watch the segment below via Fox News Channel:
> >Follow Noah Rothman (@Noah_C_Rothman) on Twitter
Have a tip we should know? tips@mediaite.com