Fox & Friends Slams 'Jaw-Dropping' 'Hypocrisy' Of Obama For Supporting Deadly Drones But Not Waterboarding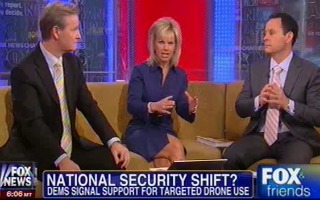 On Wednesday, the hosts of Fox & Friends tore into President Barack Obama and his administration for attempting to justify deadly drone strikes against American citizens overseas while maintaining their opposition to waterboarding. The Fox News Channel hosts also went after Democrats for being vocally opposed to tactics used by the Bush administration, like warrantless wiretapping and the Guantanamo Bay prison, but who remain silent when Obama uses his authority to target Americans with deadly force.

RELATED: Maddow: Concern About Drone Strikes Is Not About Killing Bad Guys, But 'Who's A Bad Guy?'
"We've gone from capturing [Al Qaeda militants] and possibly getting information from them about other terrorists and bringing them to Gitmo, to killing them with drone strikes. Why? Because the president doesn't want to do some of those enhanced interrogation techniques," Gretchen Carlson opined.
"He doesn't believe in Gitmo, and so this is the answer," she continued. "You can argue whether or not, you know, that's legal. The ACLU says that's not legal."
"The ACLU usually agrees with the Obama administration," Carlson asserted.
"The hypocrisy though is jaw-dropping," declared Steve Doocy. "Where are the calls for this president to be impeached as George Bush was called to be impeached five years ago."
Doocy pointed to a graphic which showed a dramatic drop in Congressional Democrats' interest in questioning the tactics used in the War on Terror since the beginning of the Obama administration.
"It goes to show you, when you're sitting in the Oval Office, you need to do everything you can to keep America safe, but, the thing is, you should not condemn people when you're not in that seat," Brian Kilmeade added.
Watch the clip below via Fox News Channel:
> >Follow Noah Rothman (@NoahCRothman) on Twitter
Have a tip we should know? tips@mediaite.com