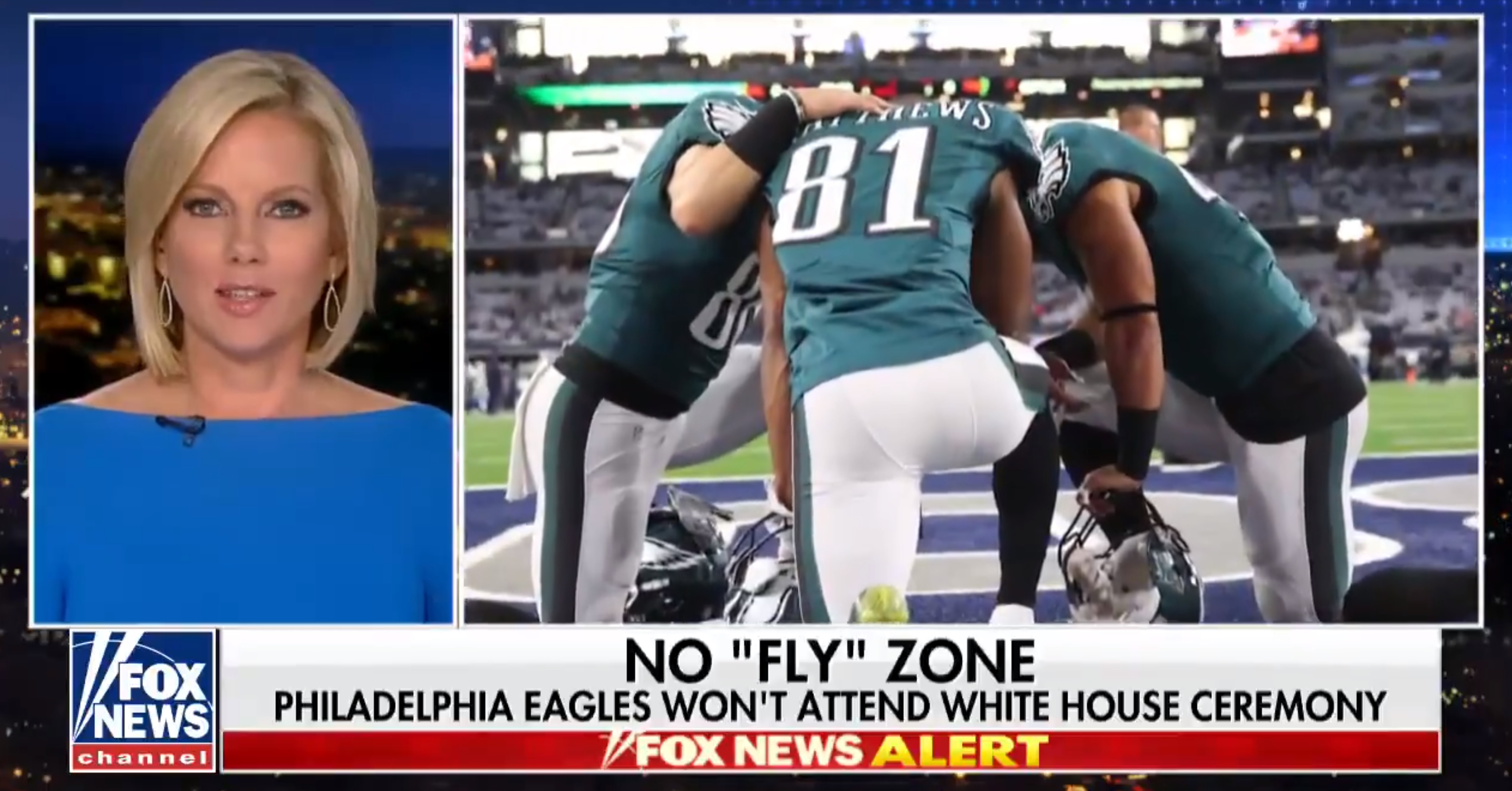 Fox News is responding to its use of what is being called a "deceptive photo montage" of NFL players praying in its coverage of the kneeling controversy Monday night.
"During our report about President Trump canceling the Philadelphia Eagles trip to the White House to celebrate their Super Bowl win, we showed unrelated footage of players kneeling in prayer," said Christopher Wallace, Executive Producer of FOX News at Night with Shannon Bream, where the footage was aired. "To clarify, no members of the team knelt in protest during the national anthem throughout regular or post-season last year. We apologize for the error."
While the network has issued a mea culpa, the incident sparked outrage from both sides of the aisle, including one of the Eagles' own players, Zach Ertz, who expressed shock, calling it "just sad."
This can't be serious…. Praying before games with my teammates, well before the anthem, is being used for your propaganda?! Just sad, I feel like you guys should have to be better than this… https://t.co/kYeyH2zXdK

— Zach Ertz (@ZERTZ_86) June 5, 2018

Omnipresent Stormy Daniels lawyer Michael Avenatti jumped on board to support the athlete, stating Fox's use of the images was "pathetic," even suggesting a firing be made as a consequence.
.@foxnews reaches new depths. Using misleading photos of prayer to fit an agenda is pathetic. If someone does not lose their job over this it is an outrage. Maybe @TuckerCarlson should focus on this issue as opposed to his daily nonsense. #Basta https://t.co/SeTGmWuUPw

— Michael Avenatti (@MichaelAvenatti) June 5, 2018
The report also drew criticism from the right, receiving a reaction from Brittany Hughes, the managing editor for MRCTV.org, a conservative video website run by the Media Research Center.
This is a deceptive photo montage showing Eagles players praying before games, not kneeling for the anthem. Truth matters. https://t.co/xD043H4XGg

— Brittany Hughes (@RealBrittHughes) June 5, 2018
CNN's Oliver Darcy noted the tweet was surprising, given that the organization isn't known to speak out against the network.
Oof. Even the Media Research Center — a right-wing media watchdog that rarely, if ever, criticizes Fox News — is also going after Fox News for this "deceptive photo montage" https://t.co/mI5ztxEj5i

— Oliver Darcy (@oliverdarcy) June 5, 2018
Others called out the network as well:
Fox News couldnt find b-roll images of Eagles players kneeling last year because they didnt kneel.

So they used pictures of players praying. https://t.co/szmwKcgZ5G

— Allan Bell, Jr. (@AllanBell247) June 5, 2018
I can't say why this infuriates me so much, but it does. Really gross.https://t.co/Jl1qF0IPE1

— NarowlyDecidedHat (@Popehat) June 5, 2018
[Image via screengrab]
Follow Amy Russo on Twitter: @amymrusso
Have a tip we should know? [email protected]