Fox Pundits React To Obama SOTU: Politically 'Effective,' Full Of 'Recycled Ideas,' 'Puts Republicans On Defensive'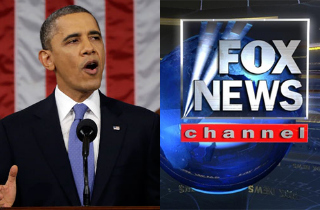 Immediately following President Obama's fourth State of the Union address, Fox News' panelists reacted in a rather mild fashion, with conservative columnist Charles Krauthammer calling the speech politically "effective," and others noting the unusual proposals contained therein.
"I think it was a very effective address," Krauthammer said. "He did what he had to do. It started with one sort of political objective, which was to get way out front on the sequester issues, and painting the Republicans as the party of the rich, protecting loopholes and he had the middle class, Medicare, all of this other stuff."
The conservative author continued on to say the president "hit hard and he did it early in his speech," noting Obama's open embrace of an "activist government" that encourages the theme of "solidarity." Krauthammer criticized the numerous proposals contained within the speech, all of which he said indicate the president has "no interest in solving the debt issue."
Fortune magazine writer Nina Easton added that, despite Krauthammer's view, Obama "posed himself as someone concerned about the debt," which is "striking" because a lot of his own Democratic Party members say "deficits don't matter."
Easton criticized the president for suggesting an increase in the minimum wage, which she said would be a "job killer" at a time when unemployment hovers around 8 percent. "There are a lot of recycled ideas," she continued, noting the president's proposals for a mortgage refinancing plan and increased investment in infrastructure.
Fox liberal commentator Juan Williams said that the president made clear his catchphrase for the night: "We can do this."
Williams went on to claim the president effectively "put the Republicans on the defensive" by framing his immigration and middle class policies as having to do with an overall economic framework. He noted that the president was setting up everyone to "sweat a little bit," previewing intense congressional fights over issues like "climate change and some of these ideas probably don't sell that much in those [Republican-dominated] states."
"You can add to that gun control," Krauthammer said.
Watch below, via Fox:
— —
>> Follow Andrew Kirell (@AndrewKirell) on Twitter
Have a tip we should know? tips@mediaite.com