So former Secretary of State Hillary Clinton tweeted this out last night: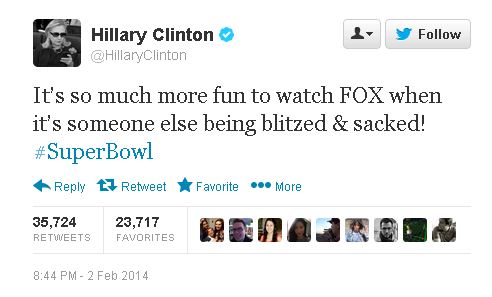 Since it was sent during the Super Bowl (broadcast on Fox), and contained several football references, most people thought she was swiping at Fox by alluding to the Denver Broncos, who were in the midst of getting their orange jerseys handed to them, as opposed to herself — who was the frequent subject of the network's cable news derision during Benghazi coverage.
Not so, according to Fox News. At least two anchors, Fox & Friends' Brian Kilmeade and The Real Story's Gretchen Carlson, argued on Monday that the tweet actually referred to President Barack Obama's interview with Bill O'Reilly.
"Is she talking about Peyton Manning, or is she talking about Barack Obama?" Kilmeade wondered this morning. Hours later, as if responding to Kilmeade's question directly, Carlson said, "I had the sneaking suspicion maybe she was talking about President Obama."
Carlson's guest Dee Dee Benkie saw no doubt about the matter. "It was absolutely [about] President Obama," Benkie said. "Because she's thinking she's getting destroyed all the time about Benghazi. This time he's on the hot seat. She's sitting back, watching the game, saying, 'At least it's not me.' She can laugh now. It may have been clever. But later, she's going to be on the hot seat again."
Democratic aide Julie Roginsky thought they were all insane, noting that the tweet came at halftime, several hours after the O'Reilly interview. "She hopes Bill O'Reilly will be interviewing President Clinton before the Super Bowl a few years from now," Roginsky said.
Watch the segments below, via Fox News:
Fox & Friends:
Fox's The Real Story:
[Image via screengrab]
——
>> Follow Evan McMurry (@evanmcmurry) on Twitter
Have a tip we should know? tips@mediaite.com