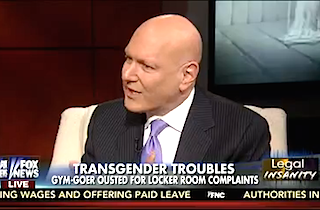 When Elisabeth Hasselbeck introduced Fox & Friends' "Legal Insanity" segment Tuesday morning, she reminded her guests, resident psychiatrist Dr. Keith Ablow and legal analyst Arthur Aidala, that they would be talking about a "serious subject." Given the story at hand — a Planet Fitness that kicked out a female member for complaining about a transgender woman using the locker room — she had reason to be concerned about Ablow, who has said he's "not convinced" transgender identity is real.
Because people are "not settled on the fact that when somebody says, declares, 'I am of this gender,' but they are anatomically and genetically of another gender," Ablow said the gym should have been more forgiving to the woman who complained. "They need to account for that and not judge the folks who feel exposed," he said.
As the lawyer on the show, Aidala strained to look at the story from a legal perspective, concluding that under Michigan law the gym had every right to ask the woman to leave and did not need to set up any additional gender-neutral locker rooms for transgender members.
But Ablow kept on going, complaining that society has become so "politically correct" that "we get tongue-tied, we can't say the obvious, which is this is craziness! You're kicking out members because they feel uncomfortable that someone who seems to be a man to them, and is genetically, is looking at them naked?!"
"We are being bullied into accepting things that are untrue to our core feelings," Ablow added.
"Keith makes some good points," Aidala said at the end of the segment. "Not legal points, but good points."
Watch video below, via Fox News:
[h/t Raw Story]
[Photo via screengrab]
— —
>> Follow Matt Wilstein (@TheMattWilstein) on Twitter
Have a tip we should know? tips@mediaite.com