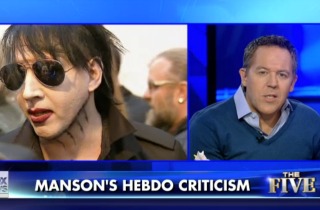 Just as the Anderson Cooper vs. Billy Corgan feud has seemingly died down, another cable news vs. musician quarrel emerges: Fox's Greg Gutfeld vs. Marilyn Manson.
Earlier this week, Gutfeld went after the metal musician for telling the A.V. Club that he would not have made fun of Muslim terrorist groups like Charlie Hebdo did.
"Someone asked my opinion about [the Paris attacks], and I said, 'I can't say they didn't ask for it. It's kind of a dumb idea to do something like that,'" Manson relayed. "I'm not saying they deserved it. I'm just saying, personally, would I fucking make fun of a terrorist group? Absolutely not."
To Gutfeld, that particular comment exemplified Manson's "risk-free rebellion," seeing as the musician became famous by going after Christianity with albums like Antichrist Superstar. "Spoken like a true rebel, the kind who trashes hotel rooms that some child's mother must clean up for minimum wage," Gutfeld said Monday on The Five. "How daring."
Segment below:
The rocker replied Thursday afternoon on Twitter, calling Gutfeld a racist:
I'm so sad that the "racist"@greggutfeld wasn't afraid what would happen when he opened his fucking mouth. God bless you.

— Marilyn Manson (@marilynmanson) January 29, 2015
He suggested his followers take a whack at the Fox host as well:
@greggutfeld Have at it kids. Whatever you do, make sure it is biblical.

— Marilyn Manson (@marilynmanson) January 29, 2015
And so, of course, this led to another Five segment, in which Gutfeld called Manson a "pale-faced pop-tart realizes he has no argument, he tweets, 'racist.'" The Fox host also mocked the musician for asking his fans, "all presumably still sleeping under Pokémon sheets" to fight his battles.
Watch that below, via Fox:
And it doesn't end there.
Early Friday morning, Manson tweeted once more at Gutfeld, jabbing at the Fox host's height (he's 5'5") and excerpting another portion of the A.V. Club interview to show he is unafraid to speak his mind:
Best people who call themselves journalists, myself not included, are the funny ones that are dick-height to me. pic.twitter.com/4BErz0CecK

— Marilyn Manson (@marilynmanson) January 30, 2015
And Gutfeld replied that Manson conveniently left out the quote about how Charlie Hebdo may have invited the fatal attack with their cartoons:
hey @marilynmanson left out this: saying of the dead Charlie Hebdo editors, "can't say they didn't kind of ask for it" nice dick joke tho!

— GregGutfeld (@greggutfeld) January 30, 2015
We have a feeling this feud isn't ending any time soon.
— —
>> Follow Andrew Kirell (@AndrewKirell) on Twitter
Have a tip we should know? tips@mediaite.com