Fox's Hasselback Battles Earnest Over Obama Paris Remarks: 'His Words Matter, Josh!'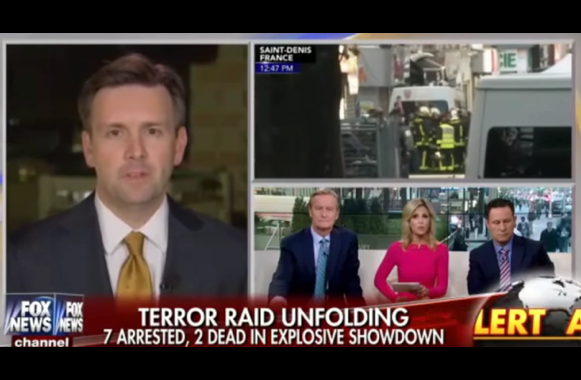 Fox & Friends host Elisabeth Hasselbeck battled White House press secretary Josh Earnest Wednesday over President Barack Obama and his administration's more questionable comments following Friday's terrorist attacks.
Hasselbeck began by pressing Earnest on Obama's comments that the Paris attacks were a "setback," and Secretary of State John Kerry's comments that there was an understandable "rationale" behind the Charlie Hebdo attacks. "Do you understand at this point how the verbiage needs to change a bit?" she asked. "…I mean, to call this 'understandable' as it relates to Charlie Hebdo and call this a 'setback' seems awful, at least to the American people."
"Well Elisabeth, I think what I'd asked the American people to do is look at the transcript of the president's remarks, where he described the situation as 'sickening,' where he expressed his profound sorrow for what occurred," Earnest said. "I would encourage you to spend just as much time focusing on the president's actions as you do his words."
"His words matter, Josh! I have to stop you there; the President of the United States' words matter," Hasselbeck interrupted. "I will focus on my president's words, Josh."
"Let me finish my answer," Earnest responded angrily. "If you have me on your show to talk about a serious issue, give me an opportunity to answer the question."
"Elisabeth, if you want to have me on the show to talk about something serious as national security, ask me a question and I'll answer it," he continued.
"I'm letting you know the president's words matter not just to me, not just to the American people but to those around the globe who are very concerned right now," she responded. "Our president's words matter. He called it a 'setback' why? Just a 'setback' seems cavalier."
Earnest paused before answering. "Elisabeth, if you would consider the president's remarks, you will note that he called the attacks 'sickening' and expressed profound sorrow of what precisely had occurred," he repeated.
Watch above, via Fox News.
[Image via screengrab]
——
>>Follow Alex Griswold (@HashtagGriswold) on Twitter
Have a tip we should know? tips@mediaite.com