Beck Opens Up About Violence: "I Have 15 Operating Threats On Me At Any Given Time"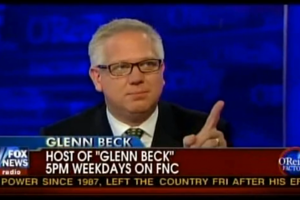 Glenn Beck has been particularly vocal calling for political figures to renounce violence from all political ideologies while defending the right of said figures to use heated rhetoric. The process has made him a bit of a target, something Bill O'Reilly touched on earlier this week, but last night on the O'Reilly Factor he gave us a better idea of just how much of a target he has become, sustaining 15 threats to his person at any given time.
Beck visited O'Reilly for his weekly segment to talk gender bias in the political sphere, and whether Sarah Palin and Michele Bachmann were subject to more vicious attacks. O'Reilly didn't buy this argument, asking Beck if it were possible for the vitriol against him to be worse than it is now. Beck seemed to agree, modestly, that he was one of the more hated figures in political media, and gave up data on why: "I have 15 operating threats on me at any given time." Despite the violent threats, however, Beck continued to argue that "Americans are fair and decent, and they're not looking for revenge or anything else," and encouraged public and private figures alike to take his new pledge to "renounce violence regardless of ideology," something he perceived as essential for the strength of the nation, especially in light of the recent violence.
While Beck was serious for most of the segment, and kept his eye on the usual suspects like George Soros and Frances Fox Piven, he had to make some room to talk about his new obsession, Spiderman on Broadway. O'Reilly seemed unconvinced by Beck's claims that it was the "8th wonder of the world" that would "change theater," but promised his pal he'd check it out.
The segment from yesterday's O'Reilly Factor below:

Have a tip we should know? tips@mediaite.com