Goldberg To O'Reilly: Black Americans Will 'Do A Lot Better' Listening To You Over Sharpton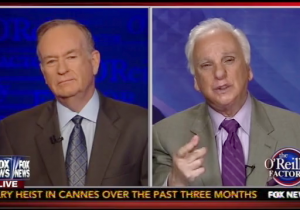 On Fox News tonight, Bernie Goldberg went after President Obama for attempting to brush aside the "phony scandals" in Washington in an economic speech next week. Goldberg told Bill O'Reilly found it remarkable how Obama was just casually dismissing a number of important scandals, at least one of which he has previously stated was a serious breach. They also talked about O'Reilly's commentary on race, with Goldberg saying that black people should listen to O'Reilly over the civil rights industry.
Goldberg went after Obama for refusing to "take responsibility for the crummy economic recovery" and how he's now going after "Republicans who have concocted phony scandals" because it's five years into his presidency and "he can't blame George Bush any more."
However, Goldberg then went after the media, saying the next time journalists have access to the president, they need to grill him on specifically which scandals, from Fast & Furious to Benghazi to the IRS, he finds particularly "phony." In a bit of what Goldberg admitted was "wishful thinking," he said the media should "treat this president the way they would treat Ronald Reagan or George W. Bush–they would never tolerate phony scandals as an excuse for failure."
O'Reilly then asked Goldberg to weigh in on the inter-network battle over "race hustlers" and the social responsibility of civil rights leaders. Goldberg agreed with a lot of O'Reilly's points, telling him that if black America listens to him, they will do a lot better than if they listen to people like Al Sharpton.
"I think if the lower classes, economic classes of black America followed your prescription, they'd do a lot better than following the civil rights establishment's prescription."
Watch the video below, via Fox News:
—–
Follow Josh Feldman on Twitter: @feldmaniac
Have a tip we should know? tips@mediaite.com
Josh Feldman - Senior Editor