GOP Rep. McCarthy To MSNBC: Obama Acted Like 'Spoiled Child' During Debt Ceiling Talks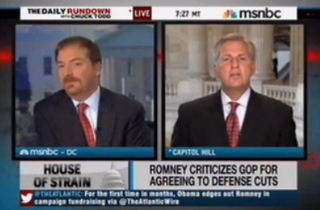 On MSNBC's The Daily Rundown Monday morning, Republican House Majority Whip Kevin McCarthy (R-CA) told host Chuck Todd that during the August 2011 debt-ceiling negotiations, President Barack Obama acted like a "spoiled child" taking his basketball home and refusing to play anymore.
Todd asked McCarthy to address Mitt Romney's critique that the GOP leaders made a "mistake" by agreeing to a sequester in the debt deal.
McCarthy defended his colleagues' actions: "The deal was a debt limit where you had a president walk away, where you're dealing in the final hours and the only idea that the Democrats had was this so-called supercommittee.' So Republicans went along to make sure the cliff did not fall off. And then what happened in the supercommittee, Republicans offered an idea, Democrats did not."
"It's the Democrats that walked away," he added.
Todd noted that both sides seem to believe the other side "walked away" from their respective deals, and McCarthy took exception to such a characterization:
"Just being around during that time, I remember the situation," he said. "I remember when the president said 'no more,' I remember watching the president go on TV when we were a couple days away saying he wasn't going to sign anything that he ended up signing."
"It was like a spoiled child going 'I'm gonna take my basketball home and leave, I'm not gonna play anymore,'" McCarthy continued. "That is not what you need in that situation."
The California congressman went on to say that previous presidents like Bill Clinton got together with the other side — Bob Dole and Newt Gingrich — to reform welfare, and Ronald Reagan got together with Democrat Tip O'Neal to reform the tax code. "It takes leadership from the White House," McCarthy said, "you can't walk away."
Watch below, via MSNBC:
— —
>> Follow Andrew Kirell (@AndrewKirell) on Twitter
Have a tip we should know? [email protected]