Hannity And Coulter Battle Over Whether House GOP Should Give In To Obama On Taxes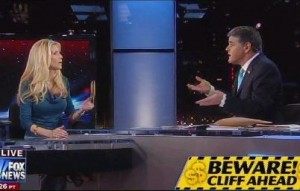 Sean Hannity brought on Ann Coulter tonight to talk about the current negotiations over the fiscal cliff and what the Republican party can do to reach an acceptable compromise. Coulter surprised Hannity when she argued that the GOP should back away from trying to fight the Democrats on raising taxes on the wealthy in order not to feed into the media stereotype about Republicans.
RELATED: Geithner: Obama 'Absolutely' Willing To Go Over Cliff If GOP Does Not Cave On Higher Tax Rates
Coulter opened the fiscal cliff talk by predicting that no matter that steps the Republicans take, the economy will be disastrous for the next four years. She said that while she would be okay with taxing actual rich people, proposed taxes on the rich now encompass those who are working hard to become rich. But if the GOP wants to turn its fortunes around in the next few years, Coulter said they need to keep the blame on the Obama administration.
Hannity argued the GOP actually needs to take a strong stand against the country going bankrupt. He proposed another extension of the Bush tax cuts, but Coulter predicted it would die in the Senate. She acknowledged that although the Republican party should not cave on everything, a lot of what they are doing is feeding into the media narrative about how they are trying to protect the rich.
When Hannity pressed Coulter, she admitted that she was essentially calling for the GOP to give in to Obama's demands on raising taxes. Coulter argued that the Republicans are in no room to negotiate because Obama won reelection, but Hannity shot back saying that the GOP held onto the House to serve as a check on the president's power.
Hannity accused Coulter of wanting to abandon principle in order to go with the prevailing media narrative. She made it clear that the GOP should fight to keep tax cuts for 98 percent of the public and there are many things they should stay on principle for, and even cited rich liberals in order to make her argument for raising taxes on the wealthy more appealing to conservatives. Hannity found it astounding that Coulter would prioritize a PR campaign over conservatives sticking to their guns.
Coulter exclaimed, "They're going to lose!"
Watch the video below, courtesy of Fox News:
—–
Follow Josh Feldman on Twitter: @feldmaniac
Have a tip we should know? tips@mediaite.com
Josh Feldman - Senior Editor