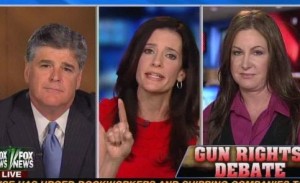 Amidst all the chatter about the fiscal cliff going on in the media, let's not forget the other debate going on in the media: gun rights. Tonight Sean Hannity took on the latest attempts to ban assault weapons, and repeatedly confronted guest Leslie Marshall over her insistence that such bans don't go far enough.
RELATED: Rev. Jesse Jackson Repeatedly Challenged To Defend Chicago Gun Ban After 500th Homicide This Year
Hannity highlighted an attempt by Senator Dianne Feinstein to push for a more restrictive assault weapons ban, expressing disbelief that any of the proposals being put forth by Democrats "would have saved lives" in the Newtown shooting two weeks ago. Marshall admitted that the issue isn't simply about gun control, though she did want the current proposals to be tougher on ownership and registration. Hannity said the gun portion of the debate is being overhyped to the detriment of conversations about mental health and "God in school."
Kate Obenshain criticized Feinstein's proposal for not seriously trying to address violent mass shootings, but instead trying to ban all guns, including ones used by most law-abiding gun owners. Marshall bet that the intention of the Founding Fathers in crafting the Second Amendment was not to defend an individual's right to own automatic magazine clips. She cited Los Angeles' gun buyback program as a successful incentivizer (it brought in two rocket launchers, amazingly).
Hannity argued that violence in Australia "went through the roof" when that nation instituted a gun buyback program. Obenshain insisted the Second Amendment was clearly meant to protect an individual's right to self-defense, including with semi-automatic handguns, and argued that any attempt to ban guns just tips the scales in favor of criminals.
Hannity posed a hypothetical scenario to Marshall about how she would defend herself against an intruder. Marshall said that a typical human being, just having woken up and stumbling around to get their gun in the middle of the night, would already be shot dead before they could get in a shot at said intruder.
Watch the video below, courtesy of Fox News:
—–
Follow Josh Feldman on Twitter: @feldmaniac
Have a tip we should know? tips@mediaite.com
Josh Feldman - Senior Editor