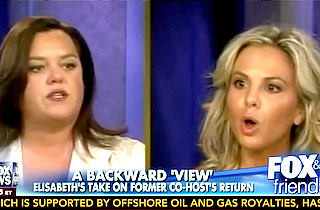 Elisabeth Hasselbeck interrupted her vacation Wednesday morning to chime in on the goings-on at her former show The View, alleging that Barbara Walters' farewell show was actually the first strike of Rosie O'Donnell's takeover.
Hasselbeck, who clashed with O'Donnell once or twice or several dozen times while the two shared the set, told Fox & Friends O'Donnell's rumored return had been in the works since before the recent host-purging.
RELATED: Sarah Palin Is Seriously Considering Joining The View
"I'll go back to the reunion show for Barbara," Hasselbeck said. "How odd is this: when you have the woman who insinuated that our own troops were terrorists in Iraq at the time, then left the show while still at the end of her contract, to have such ease the day of Barbara's good-bye show was shocking to me. She walked around with a lot of control."
"When I had the chance to talk to her, Rosie herself told me, on set, while we were miked up, that she produced the reunion show to have everybody together and it was her idea," Hasselbeck continued. "Now, would you think that the woman who left the way that she did would be producing Barbara's good-bye show? Here's the shocker: it was actually her hello show."
Hasselbeck then warned that O'Donnell would have control over the new set of hosts, but said it would be unwise for her to butt heads with sole remaining member Whoopi Goldberg.
Watch the clip below, via Fox News:
[Image via screengrab]
——
>> Follow Evan McMurry (@evanmcmurry) on Twitter
Have a tip we should know? [email protected]