Hillary Clinton Slaps Back at Sanders and Warren: 'I'm Not Going to Sit and Take it Anymore!'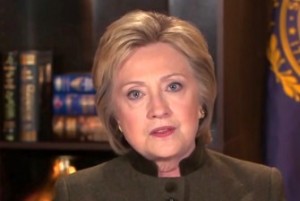 One of the attacks currently being leveled at former Secretary of State Hillary Clinton is the idea that campaign contributions and speaking fees have influenced her positions, although Sen. Bernie Sanders has tried to frame the criticism as a more generalized attack on money in politics. However, the Sanders campaign has been circulating a 2004 interview by Elizabeth Warren in which Warren puts a much finer point on Hillary's positions on a bankruptcy bill:
On Sunday morning's This Week with George Stephanopoulos, Hillary slapped back at the implications being made about her character, and tried to explain that her work on the bankruptcy bill in question had to do with protecting women and children. While she put up a vociferous defense of her record, Hillary was studious about not directly slamming Warren, instead focusing her ire on the Sanders campaign:
CLINTON: When I got to the Senate in 2001, one of the first big votes there was on a version of the bankruptcy bill and I was deluged by women's groups and children's advocates groups to do everything I could to make sure that child support and women's precarious financial situation in case of divorce or not being able to get the kind of funding they needed from a partner or a spouse in bankruptcy would not be endangered. And it was. The current — that bill was making it a very low priority. So I did go to work on behalf of all these women's groups and children's groups because they needed a champion. And I got that bill changed. And in return, it had nothing to do with any money whatsoever — and I resent deeply any effort by the Sanders campaign to so imply. It had to do with trying to get a deal…

STEPHANOPOULOS: But that's not what…

CLINTON: — that would protect women. But now let me finish, George, because this has been bandied about and I just want to set the record straight. And so then three years later, part of the — part of what Senator — Senator Warren said, you played. You didn't play the whole thing, because we've been allies. I faced a tough decision and I stood up for women and children. I went to the Senate floor, said that was exactly what I was doing. Then the bill did not pass. It never became law. And then when the next bill came up, 2005, women's issues were taken care of because I had made that a point back in 2001. And so then I was against that bill. I didn't get a chance to actually vote against it because Bill was in the hospital having a heart procedure. But I put a statement out. I was against it. So I'm happy to set this record straight. And I really want to, once again, call out the Sanders campaign, which claims they like to run a positive campaign. But they have been quite artful in raising questions and trying to cast doubts about my record.

And I really am not going to sit and take it anymore —

STEPHANOPOULOS: But Senator —

CLINTON: I have a public record. I have never, ever been influenced in a view or a vote by anyone who has given me any kind of money. So I'm just going to keep setting the record straight.
Given the opportunity at Thursday night's Democratic presidential debate, Bernie Sanders declined to make any specific charge that Hillary had ever been influenced by speaking fees or donations, but his campaign continues to assemble dots for voters to connect. This counterattack won't likely be the last one Hillary has to launch.
This is an opinion piece. The views expressed in this article are those of just the author.