Independent Senator's Endorsement of Hillary Clinton Pretty Much Says It All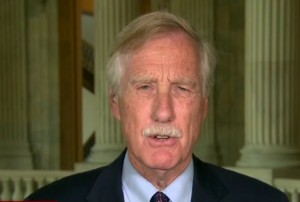 There will continue to be all kinds of arguments made in the battle between presumptive Republican presidential nominee Donald Trump and his Democratic rival Hillary Clinton, but you are unlikely to hear one quite as clarifying as the one made by independent Maine Senator Angus King Thursday morning. King, who caucuses with the Democrats, announced his endorsement of Hillary Clinton on this morning's edition of CNN's New Day, and prefaced his announcement with an anecdote that every voter should hear, no matter whom they support.
King told host Chris Cuomo about a recent trip aboard the National Airborne Operations Center, and how that helped him settle on a choice for president:
Its mission is to provide command and control in the case of a nuclear attack. We went up, took off across the country, and then had a nuclear attack exercise where an air force officer played the president, and the secretary of defense, and we heard in our ear, the first thing we noticed there was a big clock showing missiles leaving. The big clock said 28 minutes. That was the time the president had to make a decision.

What got me, Chris, it was almost physical, was in that situation, there's only one person. There's no checks and balances. There's no Congress. There's no Supreme Court. There's no consultation. There's one person making a decision about the future of civilization. When I got off that plane, you know, my knees were a little weak with that realization, how much power is in this one person. Then I thought about Donald Trump.
Although Senator King went on to explain why he thought Hillary Clinton was the better of the two candidates, the test that King imagines works no matter which candidate you support now. The only problem with that "Doomsday Plane" test is that, in this election, doomsday is polling pretty well.
Have a tip we should know? tips@mediaite.com