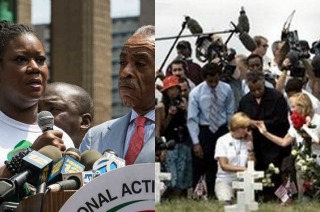 The press, particularly the political press, loves creating heroes. The only thing the media enjoys more than crafting a hero is the destruction of their creation. In fact, the cycle is perfectly predictable: a once popular, morally righteous figure runs afoul of shifting public opinion and is mocked and derided for their backwardness. Having fallen from grace, they are cast aside only to be occasionally remembered, if they are remembered at all, as an oddity.
This is the tragic course that the political media allowed the grief-stricken mother of a fallen American soldier who gave his life in Iraq to follow. Cindy Sheehan's rise to media prominence in 2004-2005 as a symbol of resistance to both the Iraq War and George W. Bush's presidency fast fell out of fashion after 2008 when opposing the war on terror meant opposing a Democratic president. This appears to be the lamentable course on which the press is determined to send Sybrina Fulton, the mother of slain Florida teen Trayvon Martin. Fulton would be wise to reject the media's cynical and strategic initiative.

There is no way to sum in words the nature of the emotional wound suffered by a parent who loses a child. It is my fortune that such grief is beyond my comprehension. None can presume to know the hearts or the minds of either Fulton or Sheehan.
Further, there is no sin in allowing either of these mourning and traumatized parents to express their sadness in the press and advocate for policy changes that they believe may have saved their sons' lives. Sheehan's original course to media prominence was to advocate for a timely end to the Iraq War. Fulton's cause was to ensure the reformation of so-called "Stand Your Ground" laws in Florida. While the efficacy of policies they recommend to affect their desired outcomes is debatable, their moral right to do so was unambiguously clear. But, seemingly inevitably, these heartbroken mothers' missions eventually creep into other areas of policy or politics.
Sheehan first rose to prominence in the heat of the closing months of the 2004 presidential election. After meeting with Bush following the loss of her son on the battlefield, Sheehan told the press in October of that year that she always opposed the Iraq War, but she knew Bush felt her family's pain and that "he's a man of God."
Her anti-war advocacy soon took her to stage after stage, speaking event after speaking event. By August, 2005, Sheehan constructed her famous makeshift encampment near Bush's Crawford, Texas, ranch. Sheehan became a symbol for the left and began opining on issues well outside her scope of expertise.
It was then that Sheehan's story began to take a tragic turn. Her 28-year-old marriage, certainly already strained by the loss of a child, collapsed. In 2006, Sheehan was arrested on multiple occasions during efforts at peaceful resistance. During a hunger strike in that year, she called Bush a bigger terrorist threat than Osama bin Laden and praised Hugo Chavez's Venezuela as an example of a free and fair society preferable to the United States.
Sheehan's Democratic benefactors abandoned her when her principled opposition to the Iraq War outlived her political utility. In 2007, she announced she was leaving the Democratic Party. In 2008, the "peace mom" mounted a third party bid for Congress in San Francisco, challenging then Speaker of the House Nancy Pelosi (D-CA). After losing that race, Sheehan reengaged in her anti-war protests, but with a different target in mind: President Barack Obama.
Sheehan protested the president's Martha's Vineyard vacation in 2009. She was arrested in front of the White House amid anti-war protests in 2009 and 2010. In 2011, the once-revered symbol of principled resistance released a lamentable statement calling the killing of Osama bin Laden a hoax before jumping into the Occupy movement with both feet.
By 2012, the infatuation that the media had with her anti-war activism had reversed itself. Still a figure of empathy but no longer the subject of admiration, Sheehan became a peculiarity. Losing her son in the war probably ruined her private life, but the media allowed her to scuttle her public life forever. Sheehan was elevated into a public figure in order to advance a cause and, once her value to that cause had been expended, she was abandoned.
It is a sincere hope that Sybrina Fulton does not allow herself to be used in this fashion. Already, the signs are becoming clear that the media is happy to employ the moral righteousness of her loss to advance causes they believe are worthy.
Speaking with NBC News host David Gregory on Sunday's Meet the Press, Fulton was asked to weigh in on a district judge's ruling that aspects of New York City's "Stop-question-and-frisk" law is unconstitutional. Why? Because, contrary to a jury's findings, Fulton believes that her son was racially profiled by George Zimmerman. This profiling, she and a number of her supporters believe, led to Martin's death.
Fulton is no expert on policing in urban environments. Nor did she appear well-versed on the complex issues and statistics Judge Shira Scheindlin pored over when making the decision to strike the law down. Fulton's appearance on that program was an effort by NBC and by Fulton's attorney, Benjamin Crump, to secure for themselves a bit of the moral weight of the grief of a mother who had to bury her son after a preventable death.
There is no shame in this on Fulton's part, but there is plenty on the parts of Crump and NBC. No one is forcing Fulton to pursue this course of action, but neither is anyone apparently advising her against it. They should be.
Fulton is being used. She should recognize this and be wary of where that path leads. Others have followed it before her. At its end, still more tragedy and misery lies. The only thing the press loves more than building up a hero is tearing them down.
> >Follow Noah Rothman (@NoahCRothman) on Twitter
Have a tip we should know? tips@mediaite.com