Jon Huntsman: We Need Address To Tax Codes For Individuals And Corps. And 'Clear Out The Cobweb'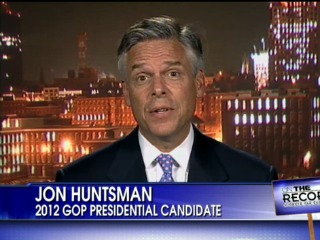 Former Utah governor and GOP presidential hopeful Jon Huntsman appeared on Greta Van Susteren's On The Record to discuss why he believes he can win in the New Hampshire primary.
Huntsman, handsome, penned an economic plan recently lauded by the Wall Street Journal:
It's big, it's bold, it speaks to job creation in a country that desperately needs it. It gets us into the game, here, the second decade into the 21st century, and I'm very proud of it. But, more than anything else, it draws heavily from what we did in the state of Utah. So, as a candidate for the presidency of the United States of America, all I want to be able to do is say I have been there and I have done that. We reformed our tax code, we flattened the rate, we basically made it a whole lot more competitive in our state, and that's exactly what we want to do for this country of ours. It's time that we look at the tax code on the individual income side and on the corporate side and say we've got to clear out the cobweb. We've got to clear out the deductions and the loopholes and the corporate welfare and we've got to buy down the rate.
Van Susteren then noted, rather hilariously, that while Huntsman's plan received a big endorsement, his poll numbers so far are, like, REALLY low. Like SUPER bad. Huntsman remained poised, focusing on his plan to create jobs at a time when some 14 million Americans are unemployed — a message he believes will do very well in New Hampshire.
Check out the full clip, courtesy Fox News:
Have a tip we should know? tips@mediaite.com