Stewart Calls Out Fox News' Judith Miller For Hypocrisy On National Security Leaks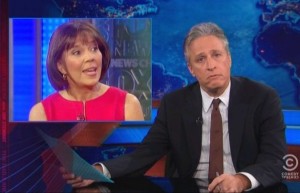 Jon Stewart looked at the recent national security leaks that he "highly think[s]" may be coming directly from the Obama administration, and more specifically, at the disdain one pundit has expressed with the danger of such leaks. Fox News Contributor Judith Miller strongly condemned the leaks as a threat to national security, which Stewart found as hypocritical, considering Miller's past involvement in leaking national security information.

RELATED: Jon Stewart Rails On Republican Hypocrisy Over Bin Laden And Auto Bailouts
Stewart recapped President Obama's various national security successes, including the less-talked-about operation that took out Waldo. He noted that the Obama administration is being accused of leaking national security information to bolster the president in an election year. Stewart then ran footage of Miller saying just leaks "jeopardize the security of our nation."
Of course, Stewart quickly recalled that Miller was involved in a Bush administration leak of intelligence information. He pointed out that Miller ran a story that was leaked by the Bush administration on Sadaam Hussein attempting to get his hands on nuclear weapons. Stewart marveled at how Cheney then went on Meet the Press to cite Miller's article, which "his administration planted" in the first place. Stewart couldn't believe that Miller was now taking a position against that sort of thing.
"And now, to bring the whole thing full circle, she's on fucking television as the expert on why other people doing it is not good! When in reality, the move she is describing should be called 'pulling a Miller.'"
Stewart then cued to a field piece featuring Jason Jones interviewing a former NSA agent who blew the whistle and got fired over a secret project called ThinThread.
Watch the full segment below, courtesy of Comedy Central:
—–
Follow Josh Feldman on Twitter: @feldmaniac
Have a tip we should know? tips@mediaite.com
Josh Feldman - Senior Editor