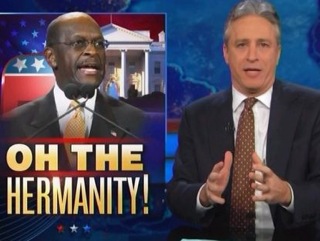 It was a sad day for The Daily Show this Saturday, as Jon Stewart lost one of his favorite targets of humor: Herman Cain, who suspended his presidential campaign. "When I look at him, I don't see a presidential candidate– I see steak," Stewart told his audience tonight, narrating the full hilarity of Cain's departure, complete with his campaign's last words being from a Pokémon movie, and paving the path for a new era of Newt Gingrich, "the thing that has been in your pantry forever," to become frontrunner.
Noting that Cain was introduced to the crowd just as his bus rolled into the event, Stewart joked, "who does that?" "That's the beauty of Herman Cain," he explained, "you don't know if they planned this, or if he was late." He then played the clip of the crowd reacting to Cain's goodbye, arguing that it was far too lukewarm and comparing it with his "staff's" reaction to Cain's exit (a collection of various movie clips of angry people, culminating in Johnny from The Room tossing the TV).
RELATED: Herman Cain Exits Race With Admission That He Did Quote Pokémon That One Time
And of course, Stewart then turned to the last words of Cain's farewell address, noting, "the final moments of his campaign are from the closing credits of the Pokémon movie–the thing they play to get you the f*ck out of the theater." Not only was the Pokémon thing absurd, Stewart joked, but the line Cain quoted "was not even the most inspirational one in the movie," playing a clip then of the genetic clone pokémon Mewtwo explaining how he arrived at an emotional epiphany as he watched Ash Ketchum die and be revived by the mournful tears of his DNA donor, Mew— which, it should be noted, is from Pokémon: The First Movie and not the film Cain quoted, Pokémon: The Movie 2000 (don't ask how we know that). He rounded off the pokémon talk with a clip of a Slowking needing pants, joking "We can't all be as wise as Slowking when he's wearing the Shellder of Knowledge" (it should also be noted that the "Shellder of Knowledge" is not a real pokémon thing).
RELATED: Herman Cain Is Campaigning Directly To The 12 Year Old Version Of Me From 1999
With Cain out of the way, Stewart then looked to Gingrich, who was arguing that the newcomers were volatile elements and that, having been around forever, he was a safe bet. "That's Newt Gingrich's pitch," Stewart joked, "'I'm the thing that has been in your pantry forever… if you look way back in there, there's a can of La Choy Baby Corn. You don't remember buying it, yet you don't remember ever being without it, and now you have no choice but to elect it president."
The segment via Comedy Central below:
Have a tip we should know? tips@mediaite.com