Jon Stewart Tears Into Fox News For Arbitrarily Deciding When And Where People Can Talk About Gun Control
Stewart Tears Into Fox For Arbitrarily Deciding When And Where People Can Talk Gun Control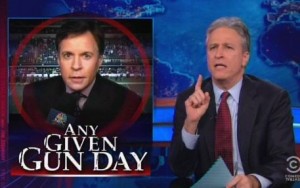 Jon Stewart opened his show tonight by addressing the controversy over the murder-suicide of NFL linebacker Javon Belcher and the seemingly arbitrary way the zeitgeist decides when it becomes appropriate to talk about gun violence after an act of such violence has been committed. Stewart highlighted inconsistencies in the logic behind such arguments, particularly at Fox News.

RELATED: Bill O'Reilly Confronts Bob Costas Over Gun Control Comments: People Own Guns To Feel Safe
Stewart brought up the commentary by Bob Costas that ignited this whole gun control controversy. He acknowledged that it was a very complex issue that Costas didn't fully address, but he was at least "trying to start a conversation." Of course, the conversation was immediately intercepted and run past the ten-yard line by Fox News. Practically every pundit at the network said halftime isn't the right time to talk about gun control.
Stewart tried to figure out exactly where and when, by Fox's standards, it would be appropriate to talk about gun control in the wake of incidents of gun violence. Michael Bloomberg did not wait long enough for Fox, violating the strict waiting periods we have on guns… er, rhetoric about guns. It's also based on who said it, with Laura Ingraham in particular telling Costas to "shut up" and go back to talking about sports.
Stewart shot back by asking why Costas can't talk about guns, but Ingraham can. Stewart took Ingraham's words and flipped them on her by suggesting she needs to "shut up and shut up."
However, whereas gun control language is more sensitive and needs to be said only after an acceptable amount of time, Stewart noticed the arguments from the other side of the gun debate don't need to wait as long. In particular, there's apparently no need to care about being "respectful," with some Fox hosts suggesting that Belcher could have easily strangled his girlfriend.
Apparently the only window we have to talk about gun violence is when there is no gun violence in the news, and the only window we had closed two weeks ago.
Watch the video below, courtesy of Comedy Central:
Part 1:
Part 2:
—–
Follow Josh Feldman on Twitter: @feldmaniac
Have a tip we should know? tips@mediaite.com
Josh Feldman - Senior Editor