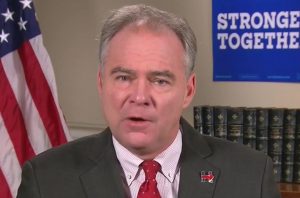 Democratic vice presidential candidate Tim Kaine spelled out one of the major policy differences between his running mate Hillary Clinton and current Democratic President Barack Obama Thursday, saying the Obama administration was unwilling to do what was necessary to protect humanitarian safe zones in Syria.
MSNBC Morning Joe host Willie Geist asked Kaine Thursday about Aleppo. "People are watching this every day, they're seeing new pictures, new video come out of Aleppo. They're horrified and they believe, many Americans do, that the Obama administration should do more," he said.
"If you can boil it down for people who are making a decision on foreign policy, what exactly would Hillary Clinton do differently now about Syria than President Obama is doing?" Geist asked.
Kaine outlined Clinton's support for a humanitarian zone in northern Syria where refugees could seek safety, housing, medical care and food. "There ought to be a place within Syria where people can go to receive aid and yes that would have to be patrolled with military assets, the U.S. assets in the air and then regional forces on the ground to make sure that people would be safe," he said.
.@timkaine on Syria: Current administration unwilling to commit to protecting humanitarian zone https://t.co/v6DNkVII4n

— Morning Joe (@Morning_Joe) October 20, 2016
The Virginia senator pointed out that the UN security council passed a resolution in February of 2014 to that effect. "As of yet, it's not been enforced," he lamented.
"Why isn't it happening, Senator? What's your assessment of why that hasn't happened from the United States point-of-view?" Geist asked.
"It would take the commitment of military assets to protect this humanitarian zone," Kaine said, "and the current administration has been unwilling to do it."
Watch above, via MSNBC.
[Image via screengrab]
—
>>Follow Alex Griswold (@HashtagGriswold) on Twitter
Have a tip we should know? tips@mediaite.com