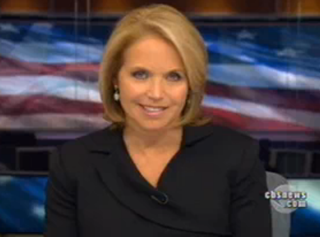 Katie Couric delivered her final broadcast as the host of the CBS Evening News tonight, thanking her staff and those who hired her and emphasizing the "privilege and honor" of having been able to deliver the news there for the past five years. While it could have been a somewhat bittersweet affair (and, indeed, "Bittersweet Symphony" did play at one point in the background), Couric's last treat– a retrospective of her favorite stories from her tenure– made it fascinating.
Presenting "five years in five minutes," the Evening News' tribute to its departing anchor could have doubled as a crash course in American political culture for the half-decade, packed with stories that dominated water cooler conversations what seems like ages ago– the departure of George W. Bush, the 2008 election cycle, the BP oil spill– even the recent earthquake in Japan and the shooting of Rep. Gabrielle Giffords felt distant when watching the footage.
Among the more interesting bits of the compilation are those showing the stark difference between the most admired people among Democrats and Republicans (Nelson Mandela was repeatedly mentioned by Democrats; Ronald Reagan by Republicans), the disarmingly calm way in which Iranian President Mahmoud Ahmadinejad dismisses the importance of the Holocaust, and, yes, the Sarah Palin interview– though not its most famous "all of them" soundbite.
Couric ended with the Beatles classic "In My Life" and some of the lighter moments from her time there. While there is no concrete news as to where she will land, Couric has hinted she's considering a return to daytime.
Couric's final broadcast (and retrospective) via CBS below:

Have a tip we should know? tips@mediaite.com